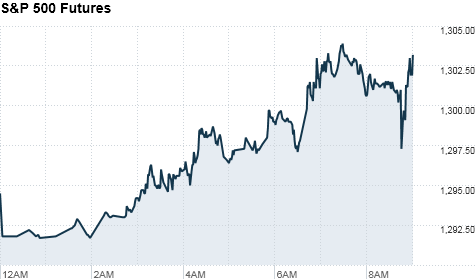 Click chart for more premarket data
NEW YORK†(CNNMoney) -- U.S. stocks were poised for a third day of gains Wednesday, following Greece's Parliament approval of proposed austerity measures.
Dow Jones industrial average (INDU), S&P 500 (SPX) and Nasdaq (COMP) futures rose modestly ahead of the opening bell. Futures measure current index values against perceived future performance.
Greece's vote Wednesday follows a prolonged debate of whether the country should adopt severe spending cuts and tax increases, in exchange for a financial aid package from the European Union and the International Monetary Fund.
Greece was widely expected to pass the austerity measures, to avoid defaulting on its debt.
"At the moment, anything slightly positive is treated as good when there's so much negativity around," said Mic Mills, head of electronic trading at ETX Capital.
While Greece may have, for the moment, addressed its fiscal situation, investors noted there are plenty of other debt-stricken eurozone countries to worry about. This is combined with the slow economic growth in the U.S.
"The market hasn't gone anywhere for the last six months, and I can't see any way that we'll break out of this range unless there's significant improvement in growth and employment," said Mills.
U.S. stocks rallied on Tuesday, with the Dow jumping 145 points, as investors cheered a report showing that home prices rose in April -- the first time in eight months.
World markets: European stocks were sharply higher in after Greece's austerity vote. Britain's FTSE 100 rose 1.4%, the DAX in Germany surged 1.9% and France's CAC 40 rallied 1.4%.
Asian markets ended the session mixed. The Shanghai Composite slipped 1.1%, while the Hang Seng in Hong Kong was flat and Japan's Nikkei gained 1.5%.
Economy: The National Association of Realtors will release its May pending home sales data at 10 a.m. ET. Economists predict that pending home sales slipped 0.6% in May after April's big 11.6% decline.

Companies: Shares of Bank of America (BAC, Fortune 500) rose 4% in premarket trading, after the bank announced it will pay $8.5 billion to settle mortgage-backed securities claims. Bank of America also said it expects to post a second-quarter loss of up to $9.1 billion.
Family Dollar Store (FDO, Fortune 500) reported quarterly earnings before the market open that missed Wall Street expectations -- sending shares of the company 3% lower.
Shares of General Mills (GIS, Fortune 500) slumped 2%, after the cereal maker posted earnings that were roughly in line with expectations, but said higher ingredient companies hurt its performance. The company's 2012 outlook fell short of expectations.
KB Home (KBH) shares fell 4% after the homebuilder reported a second quarter loss.
Monsanto (MON, Fortune 500)'s earnings widely beat expectations, which the company attributed to strength in its seeds business. Shares of Monsanto rose 4% in premarket trading.
Currencies and commodities: The dollar weakened against the euro, the British pound and the Japanese yen.
Oil for August delivery gained $1.21 to $94.10 a barrel.
Gold futures for August delivery rose $9 to $1,509.20 an ounce.
Bonds: The price on the benchmark 10-year U.S. Treasury edged lower, pushing the yield up to 3.07% from 3.04% late Tuesday.