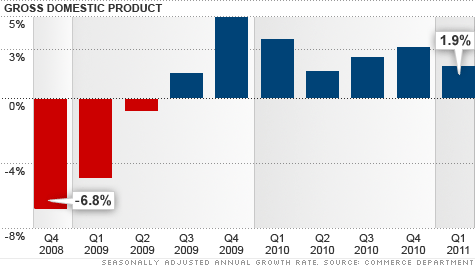 The economy has recovered from the worst of the Great Recession. But it's still growing at a subpar pace. Some economists are hopeful for a second-half rebound though.
NEW YORK (CNNMoney) -- If you said on January 1 that long-standing regimes in the Arab world would topple in the first half of 2011 AND that there'd be a massive earthquake and nuclear crisis in Japan AND that floods, tornadoes and wildfires would wreak havoc on a large portion of the United States, congratulations. You get a cookie.
Oh wait. Nobody had that in their 2011 outlooks? If the first six months of this year have taught us anything, it's that making economic forecasts is always a dicey proposition. So much is unpredictable.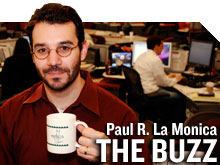 Remember that at the start of the year, many economists were pontificating about how strong the economy would be in the first half of the year thanks to the extension of the Bush era tax cuts. How quaint.
But with that in mind, many economists are now forecasting a strong rebound in the second half. This is but a "soft patch."
Heck, Dallas Federal Reserve president Richard Fisher (not known for excessive optimism) even said in a speech earlier this week that 4% growth in gross domestic product in the last six months of the year would not be "unimaginable."
The hope is that many of the events of the first half of the year -- such as surging oil and gas prices on Arab Spring supply fears and manufacturing disruptions tied to Japan -- will prove to be "transitory." (Take a shot of your favorite booze if you're playing the Ben Bernanke buzzword drinking game at home.)
But are these rosy predictions realistic? Well, to quote comic Judy Tenuta: It could happen. Just don't bet on it.
Sure, oil prices have already started to slide from their highs. That could provide much needed relief for consumers. Still, the average price of a gallon of gas remains about $3.54. That's not cheap. And it's up from $2.76 at this time a year ago.
And yes, there's also evidence that the hit to the manufacturing and tech sectors due to Japan really was only temporary.
Research firm IHS iSuppli said Wednesday that it thinks tech companies should "fully recover" from disruptions to the supply chain within the next two months.
On Thursday, a key index that gauges the health of the manufacturing sector in the United States, the Chicago PMI, rose in June. Economists were expecting it to fall. That may be a sign that the heartland of the country is recovering not just from Japan, but the terrible weather in the U.S. this spring as well.
But that's just one month. The Chicago PMI fell in February, March and April and it's not yet clear whether May is the start of a sustained rebound.
"It's true that 4% GDP growth may not be 'unimaginable' but I think it's unlikely," said Dan North, chief economist with Euler Hermes, a credit insurer in Baltimore.
North said there are still many risks that lead him to think growth will be sluggish. He pointed specifically to the stubbornly high unemployment rate and concerns about the housing market as two factors that could weigh on growth.
Terry Clower, director of the Center for Economic Development and Research at the University of North Texas in Denton, Tx, said that jobs are the key to a rebound.
Until the labor market picks up, it's hard to imagine how the overall economy can get back to the growth rates one would expect in a usual recovery.
"Businesses are not hiring at a high enough rate to inspire confidence. Because of that, consumers are still worried about their jobs and not spending," Clower said.
In case you forgot, the U.S. is a consumer-led economy. And the government reported earlier this week that personal spending was flat in May. What's more, the savings rate ticked up slightly to 5%.
That's a healthy sign for the long-term. Heaven knows we don't need another debt binge. But as long as consumers are squirreling away cash instead of spending it, growth should remain subpar.
Finally, those who are predicting strong growth in the next six months may be ignoring the proverbial pachyderm in the room. The debate over the debt ceiling and deficit.
The clock is ticking in Washington. And with our esteemed "leaders" proving yet again that they can't act like adults and actually solve a problem, fears are growing about what might happen if August rolls around without an agreement to raise the debt limit.
Rating agencies have already issued alarming warnings about what could happen to the nation's currently pristine credit rating.
These worries may give businesses yet another excuse to hold off on spending on things like jobs and capital investments. You know, the type of stuff that actually helps a company and economy grow?
"The uncertainty over the deficit and debt ceiling could weigh on GDP," North said. "It still looks like Democrats and Republicans are whistling past the graveyard."
But here's the problem. Even if politicians decide to grow up and actually do what we elected them to do, boosting the debt limit probably won't have a positive impact on the economy. It may only, like the bank bailout and the Fed's QE and QE2 bond buying programs, prevent things from getting worse.
"I don't think raising the debt ceiling would be a catalyst to get the economy moving," Clower said. "If you don't raise it, the negative is that it's another big shock to the economy. But if the government does raise it, it's not like you and I are going to go out and buy a new refrigerator."
That sounds incredibly pessimistic. But let's end the column with some slightly more encouraging news. It's not time to panic. North said that the double-dip recession fears that have suddenly become vogue again are "overdone." The economy is still growing.
Trouble is (ok so much for the good news) that until the economy does start to grow at the 4% clip that some are expecting, the "recovery" will continue to be lackluster.
The opinions expressed in this commentary are solely those of Paul R. La Monica. Other than Time Warner, the parent of CNNMoney, and Abbott Laboratories, La Monica does not own positions in any individual stocks.