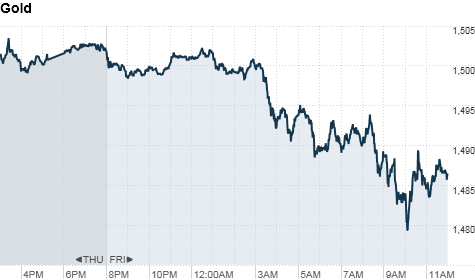 Click the chart for more commodities data.
NEW YORK (CNNMoney) -- BlackBerry maker Research in Motion, education company Apollo Group and gold prices were among the top trending topics on StockTwits Friday.
Research in Motion (RIMM) and its ongoing troubles is always a popular topic on StockTwits, but the chatter escalated after an anonymous high-level executive wrote an open letter to the company's board of directors calling for a reorganization.
The company's stock has plunged 50% this year as Research in Motion struggled to stay competitive against rivals Apple (AAPL, Fortune 500) and Google (GOOG, Fortune 500).
Commodities were also in focus after gold prices fell below the $1,500-an-ounce mark Friday -- its lowest level in six weeks. Silver prices were also under pressure.
Investors have pulled out of commodities in recent weeks, particularly oil and gold, and moved back into stocks, as the economy has shown signs of life.
Lastly shares of Apollo Group (APOL, Fortune 500), the parent company of the University of Phoenix, jumped nearly 7% Friday, a day after the company posted earnings that widely beat analyst expectations.
Apollo, and other for-profit education companies, have been in focus this year following government investigations into whether these colleges provide enough training to allow students to graduate into jobs that will allow them to repay their loans.
All of that is giving StockTwits users plenty to tweet about:
TheNumb47 $RIMMReading employee letter. Should promote him. He'll probably be handed a mop and a bucket, if not a pink slip.
joebellionaire $GLDbreaking down below 80-day MA for first time since February
EdMatts $GLDhas lost alot of its lacklustre shine of the past few days... staying short the equivalent of my disguised $EURCHF long #gold #forex
polluxtechnical nothing would be better IMO than to see #interest #rates rise. Take a bite out of #inflation and send $GLD $SLV $USOin a tailspin

biggercapital Wondering about who benefits from $APOLreport. Other EDU stocks such as $COCOor others. Thinking