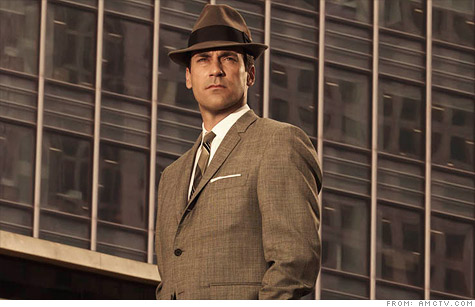 Fans of the Emmy-award winning "Mad Men" can't wait to see Jon Hamm back drinking rye as ad genius Don Draper.
NEW YORK (CNNMoney) -- The eagerly awaited premiere of the fifth season of "Mad Men" may have been pushed to the start of 2012, but if you are a fan of all things Sterling Cooper Draper Pryce -- and who isn't pining for the return of Joan! -- you don't have to wait until then to get in on the action as an investor.
AMC Networks (AMCX), which owns the cable network AMC that airs "Mad Men" -- as well as IFC, WE tv and The Sundance Channel -- began trading as a standalone stock Friday. AMC was spun-off by New York media company Cablevision (CVC, Fortune 500).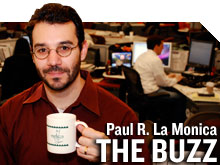 But is AMC really a smart bet for your portfolio? Or will it (spoiler alert!) fall on hard times like Don Draper and his colleagues did after the firm lost that key Lucky Strike account?
The timing of AMC's debut doesn't look great. Other pure play cable network owners, such as Food Network owner Scripps Networks Interactive (SNI) and TLC and Animal Planet parent Discovery Communications (DISCA), have lagged the market this year and the past 12 months.
And analysts are mixed on the stock. Maxim Partners John Tinker wrote in a report Friday that even though he thinks AMC is a "terrific company" that should be able to add subscribers and boost advertising rates thanks to higher ratings, the stock looks pricey when compared to Discovery.
AMC was trading at about $40 a share in late-morning trading Friday. That's nearly 30 times his 2012 earnings estimate while Discovery was valued at only about 15 times next year's profit forecasts.
But Richard Greenfield, a media analyst with BTIG, is bullish on AMC's prospects. He wrote in a research note from late June that the stock looks attractive because of just how strong the company's content is.
AMC used to be a somewhat boring network that mainly showed old films. AMC stood for American Movie Classics after all.
But thanks to a commitment to original programming, it now has several Emmy-award winning hits that generate "water cooler" chatter. In addition to "Mad Men," AMC airs "Breaking Bad" and "Walking Dead."
Greenfield wrote that he thinks the stock could hit $48 a share, which is 20% higher than where it was trading around Friday. He added that he thinks AMC could eventually wind up being a smart acquisition for a company like CBS (CBS, Fortune 500) or CNNMoney parent Time Warner (TWX, Fortune 500).
However, Tinker wrote that investors who believe AMC may be a good takeover target for a larger media firm should think again.
He noted that Cablevision's controlling family, the Dolans, have AMC shares with super-voting power. And the Dolans have shown little interest in the past in relinquishing their grip on any parts of their media empire.
Still, as tempting as it is to bash the Dolans (I grew up on Long Island and often heard complaints about how high my family's cable bills were. And don't get me started on James Dolan, Isaih Thomas and the Knicks.) I have to admit that the last Cablevision spin-off has done extremely well.
Last year, Cablevision spun-off Madison Square Garden (MSG), which owns the namesake arena, the aforementioned New York Knicks basketball team, New York Rangers hockey franchise and also runs Radio City Music Hall. Shares of MSG are up nearly 40% since they began trading independently in January 2010.
So maybe the Dolans deserve the benefit of the doubt with the AMC spin-off.
Reader comment of the week. Speaking of sports, I mused over on Twitter Thursday about what the NBA lockout, combined with the labor woes in the NFL, might mean for big companies that invest heavily in professional sports.
One follower thought that at least one entity could benefit from the possibility of no football or hoops this fall.
"Does this mean that US viewers will start to watch that game, y'know the one with sticks and a puck, what's it called? #NHL," wrote Rob van Wielingen, aka @rvanwielingen. That would be nice. Hockey needs all the help it can get. (Go Isles!)
Rob, I assume (hopefully not incorrectly) that you are Canadian? Your Twitter photo shows the # 5 jersey for Mark Giordano of the Calgary Flames. So if you hail from Alberta -- or any other province for that matter -- Happy Canada Day! Sorry about the Canucks. And Research in Motion.
Since I will be celebrating America's national holiday on Monday, there will be no Buzz column or tweets 'til Tuesday. (Voices carry!) Have a great long weekend, everyone.
The opinions expressed in this commentary are solely those of Paul R. La Monica. Other than Time Warner, the parent of CNNMoney, and Abbott Laboratories, La Monica does not own positions in any individual stocks.