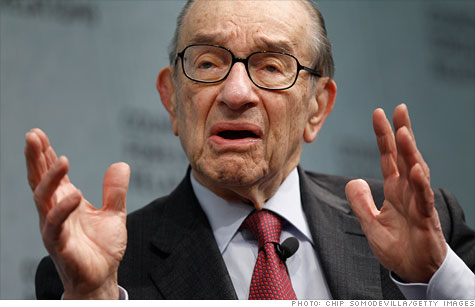 NEW YORK (CNNMoney) -- Former Federal Reserve Chair Alan Greenspan is making the media rounds with a rather dire outlook for the U.S. economy.
In the last few weeks, he has said he thinks it's "almost certain" Greece will default on its debt -- which could exacerbate the already weak U.S. recovery and possibly drive the nation back into a recession.
He has also called out the stimulus policies of his successor Ben Bernanke, stating that he thinks they haven't worked.
Greenspan, who served as Fed chair from 1987 to 2006, is often criticized for keeping interest rates too low for too long and failing to sound the alarm that Wall Street was over-leveraged with toxic mortgage debt, leading to housing bubble.
But he's sounding plenty of alarms now.
"The chances of Greece not defaulting are very small," Greenspan said in an interview with Charlie Rose two weeks ago.
Then on Thursday, he reiterated his gloomy forecasts in an interview with CNBC's Maria Bartiromo.
"It's very evident to anybody that looks at the data the major force driving our economy indirectly through the financial markets, is Greece," he said. "As the Greek default goes up in probability, we run into all sorts of problems."
While U.S. banks don't hold a significant amount of Greek debt, Greenspan is concerned a default would ripple through the European economy, causing American companies who have affiliates there to suffer major losses.
"It's going to affect the whole structure of profitability in the United States," he told Bartiromo.
Greenspan has also been rather blunt with negative critiques of the Fed's current policies. The Fed wrapped up $600 billion in bond purchases Thursday, as a way to keep interest rates low and stimulate more borrowing and spending.
But on CNBC, Greenspan said "there is no evidence" that that policy -- known as quantitative easing or QE2 -- actually worked.
"Mortgages, if anything, are weakening in numbers and consumer credit is very dull -- so that there is no evidence that huge inflow of money into the system basically worked," he said.
If anything, the only benefit of QE was that it made U.S. exports cheaper abroad, by weakening the dollar, Greenspan said.
He also told Bartiromo, the effect of the Fed's stimulus was partially psychological, making investors feel richer. Greenspan is known for often citing the "wealth effect," where just a perceived feeling of wealth can drive stock prices and U.S. consumption higher.
Greenspan said he would be "surprised if there were a QE3."
Greenspan now serves as president of a consultancy firm, Greenspan Associates in Washington, D.C.