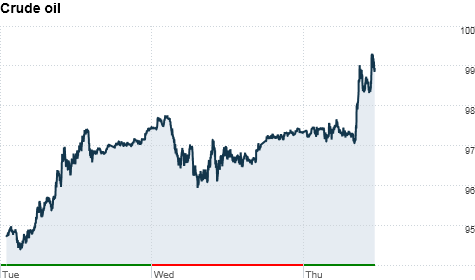 Crude jumps over $2 on signs of a strengthening economy.
NEW YORK (CNNMoney) -- Oil prices jumped Thursday, inching closer to $100 a barrel on signs of stronger economic growth and a bullish outlook on commodities from two big investment banks.
Oil rose $2.02 a barrel to settle at $98.67 on the New York Mercantile Exchange.
Earlier Thursday, payroll processing company ADP said the private sector added 157,000 jobs in June. Analysts were only looking for a gain of 60,000.
In a separate report Thursday, the Labor Department said the number of first-time filers for unemployment insurance fell by 14,000 to 418,000 last week. Economists expected 425,000 initial claims.
"[Oil prices] really reacted to that ADP number," said Stephen Schork, publisher of the industry newsletter the Schork Report. "That's creating some euphoria heading into tomorrow's jobs report."
The Labor Department releases its monthly jobs report Friday, the most widely watched of all the employment reports.
The weekly inventory report from the Department of Energy, released Thursday instead of Wednesday due to the July 4 holiday, was a non-event. Crude stocks dropped by less than 1 million barrels.
Oil prices had declined from over $110 a barrel this past spring as the global economic recovery appeared to falter.
Crude sunk to $90 a barrel two weeks ago after the Obama administration and other developed nations flooded the market with 60 million barrels of fuel from global reserves, ostensibly as a response to the ongoing supply disruption from Libya.
But oil prices didn't fall for long.
Just days after the release crude began to climb, fueled by a falling dollar as Greece averted a default and the euro rose.
Thursday's jobs report raised hopes the global economy is stronger than economists thought, which would increase demand for oil.
Strong demand was also the basis for research notes from Goldman Sachs and Morgan Stanley Thursday that said global economic growth will contribute to tight commodity supplies in the months ahead.
Goldman specifically called for rising oil prices, which only added to Thursday's price jump. Rising oil prices are a double-edged sword for the global economy. On the one hand, they signal strong growth. But if they rise too much they could crimp that growth.
Economists surveyed recently by CNNMoney listed high oil prices as the second biggest threat to the world economy, behind a default from a European country like Greece.
One economist said crude prices over $125 a barrel for six months would trigger an economic downturn.