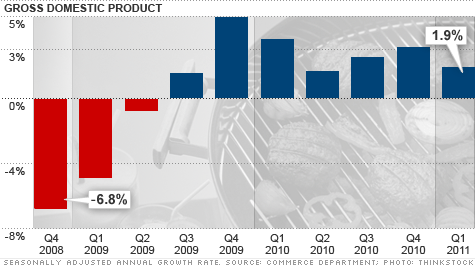 NEW YORK (CNNMoney) -- Remember when market bears and some naysayer economists were shouting "Double-dip recession!" from the rooftops just last month after some tepid jobs data? Pay them no mind.
But don't get duped into thinking that Thursday's stronger-than-expected ADP private payrolls number, as well as some solid data about the manufacturing sector in the past week, is a sign that the economy is back on solid footing either.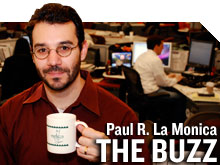 It's human nature to try and view the world in black vs. white absolutes. Traders with itchy trigger fingers make it worse by jumping on every report (no matter how consequential) as if it's a sign that the economy is either deteriorating or rebounding.
Sadly, people in my profession also don't help matters by fanning the flames with sensationalistic headlines about the economy and markets.
A 100-point drop in the Dow is often treated like it's a natural disaster or apocalyptic event. The adjectives and verbs we use can be overly dramatic. Guilty as charged. The financial media needs to do a better job of telling it as it is without hyperbole. I'll start now.
Here's the simple truth. The economy is not going to Hades in a hand basket. But it's also not going to head back to pre-Great Recession gangbusters growth anytime soon.
The ADP numbers are undeniably a good sign. It's encouraging that 157,000 jobs were added in June following 36,000 in May. It's also nice to see that jobless claims ticked lower.
However, job growth of 157,000 in the private sector is still not robust. We need employers to add even more jobs (probably in excess of 250,000 a month for several months) in order to make a big dent in the chronically high unemployment rate.
What's more, initial jobless claims were still 418,000 last week. That number needs to get below 400,000 and stay there. Until then, it's premature to declare that there is a sustainable turnaround in the labor market.
Madeline Schnapp, director of macroeconomic research at TrimTabs, a research firm in Sausalito, Calif., described what's going on as the "hamster wheel economy." We're running faster and faster but still going nowhere.
Schnapp pointed out that consumers need to be making more money as well. More jobs are not sufficient to get the economy moving again.
"The economy is finally creating jobs, but net of inflation, income growth is barely positive," she wrote in a report this week. "Subtract government stimulus, and income growth is actually negative."
I realize that nobody, especially Mr. and Mrs. Market, likes the color gray. Yet that's the best way to describe this economy.
The excessive optimism at the start of 2011 was misguided. So was the excessive pessimism this spring after oil prices shot up and the world dealt with the aftermath of the Japan earthquake.
"It's still a muted recovery," said Ray Stone, economist with Stone & McCarthy Research Associates, an economic and fixed income research firm in Princeton, N.J. "Things looked better earlier in the year than they did today. But with the April and May lull, things looked a lot worse than they do now."
It's foolish to think the economy can recover so quickly from a debt-fueled collapse that was decades in the making. But it's equally foolish to view every bit of negative data as a sign that we're doomed to head back to 2008.
The economy should grow solidly in the second half of the year -- assuming the blowhards in Washington don't screw it up by failing to raise the debt ceiling. But as I wrote just last week, predictions of an annualized increase of 4% or higher in gross domestic product seem fanciful at best.
"We could have 3% GDP growth in the second half of the year but that's lackluster when you compare it to previous expansions," Stone said. "Housing is not really making a contribution at all to the economy."
There are going to be more fits and starts for a long period of time. There will be good data points and not-so good ones. Get used to it. It's why I dubbed this the BBQ recovery -- low and slow -- last year. Nothing's changed since then.
Nothing.
I do not like green eggs and ham. One of the things I've noticed about being a parent of a young child is that there's often little room in your brain for things other than kiddie song lyrics and quotes from children's books. Witness my reference to Mo Willems' "Pigeon" series in Wednesday's column about transport stocks.
Well, it happened again Thursday. Upon noticing this morning that eBay was buying mobile payment company Zong for $240 million, a line from another of my son's favorite books popped immediately into my head. "You can wonder. How long is the tail of a Zong?"
Naturally, I did what I always do when a bit of pop culture arcanum starts bopping around my cerebral cortex: I challenged my Twitter followers to identify it for a coveted Buzz shout-out.
The winner is Bridget McKinley, who correctly pointed out the Zong reference is from "Oh, the Thinks You Can Think!" by Dr. Seuss. Nice work, Bridget! The Vipper of Vipp sends his regards.
The opinions expressed in this commentary are solely those of Paul R. La Monica. Other than Time Warner, the parent of CNNMoney, and Abbott Laboratories, La Monica does not own positions in any individual stocks.