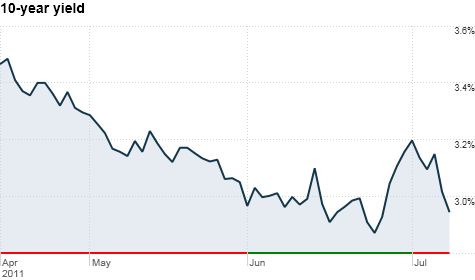 Click chart for bond yields and rates.
NEW YORK (CNNMoney) -- Fear is running high in the bond market.
Treasury prices began the week sharply higher, sending the benchmark 10-year yield below 3% for the first time since June 27.
"Being under 3% means a fear trade -- we need to get back to at least 3% to have more confidence," said William Larkin, portfolio manager at Cabot Money Management. "With the payroll numbers on Friday, the Europe situation, the debt ceiling, and being on the cusp of earnings, the risks in the marketplace are extremely elevated."
Those are the four major factors currently sending investors flocking to the safety of bonds, Larkin said.
Weak employment data
Traders had initially been optimistic ahead of last Friday's closely-watched employment report.
But when the data sharply missed expectations, worries about the recovery reversing course flooded the market -- sending the 10-year yield back toward the 3% mark Friday.
"A double-dip [recession] is a rising possibility because jobs growth is going in the wrong direction, and it's likely to get worse," Larkin said.
Debt ceiling standstill
A pressured debt ceiling agreement could result in severe spending cuts and hurt the employment picture even more, said Larkin.
"If you look at the monthly employment data, it was government employment that was really dragging," he said. "If the objectives to get a debt ceiling compromise done mean cuts in government spending, we'll drive that unemployment even higher."
But on the other hand, the inability to come to a compromise could also spook investors.
"We're running on a rope here -- say we get a political divide and can't get it done ... if they don't have the money to pay their bills, it will show political weakness and vulnerability," Larkin said.
Eurozone debt crisis
On top of the United States' economic problems, the eurozone is still a major concern.
As debt loads mount in countries like Greece and Italy, investors worry about a debt crisis spreading and potentially causing Europe's largest economies to default.
That fear has also put significant downward pressure on stocks in recent weeks. Bond prices tend to move inversely to the stock market, with yields moving in the opposite direction of Treasury prices.
Corporate earnings
With earnings season around the corner, investors are keeping their cards close to their chests as they look for strong results from but worry about disappointing outlooks.
Aluminum producer Alcoa (AA, Fortune 500) reports after the closing bell Monday. And the week will bring reports from Google (GOOG, Fortune 500), JPMorgan Chase (JPM, Fortune 500) and Yum Brands (YUM, Fortune 500), to name a few.
"If we start to see forecasts looking more gloomy, that makes a sub-3% 10-year yield all the more consistent," said Larkin.
How low can we go?
The 10-year yield hit a multi-year low of 2.39% last October, and Larkin said if the four fear factors listed above worsen in any way, we could be headed back down to that level.
But barring any negative shocks, Larkin said it won't take much to bring yields above 3% again.
If earnings outlooks don't disappoint, the eurozone debt crisis eases, improvements are seen in the labor market or a debt ceiling agreement is reached, yields "will probably trend in the mid-3% throughout the summer," he said.