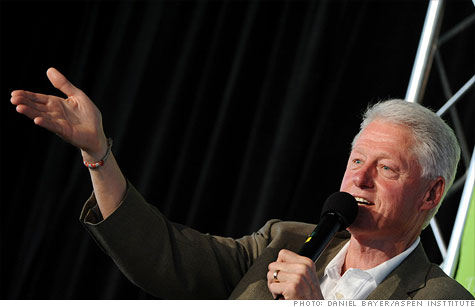 Bill Clinton speaking at the Aspen Ideas Festival on debt solutions.
ASPEN, COLO. (CNNMoney) -- President Barack Obama's offer to reform federal tax policy would get a resounding thumbs-up from a number of the economic veterans who spoke at the 2011 Aspen Ideas Festival earlier this month.
Unfortunately for Obama, each would likely say tax reform by itself simply isn't enough to resolve the debt crisis and get the economy on track.
At the festival, sponsored jointly by The Aspen Institute and The Atlantic magazine, many spoke enthusiastically about a list of recommendations for a debt solution hammered together last December by a bipartisan committee chaired by retired Senator Alan Simpson (R-Wyo.) and former Clinton administration economic adviser Erskine Bowles.
Those recommendations call not only for tax reform but for fixes to the budget process, Social Security, health care spending in the private and public sectors and an increase in mandatory retirement-savings programs.
Here is an overview of the comments from some of this year's participants, a gathering of what The Aspen Institute calls the world's "most inspired and provocative thinkers, writers, artists, business people, teachers, and other leaders."
ALAN GREENSPAN, Former Federal Reserve Board Chairman
The deficit -- not the debt ceiling -- is the country's true critical issue, said Greenspan, who went on to call the debt-ceiling debate a "synthetic," or even false, argument because the government has already spent the money that's part of the needed increase in the debt ceiling.
In many cases, Greenspan said many federal programs (such as Cash for Clunkers) have increased the deficit without creating long-term growth. The free markets should be able to correct themselves, he added.
He, too, supports the Bowles-Simpson tax reforms, which would lower corporate income tax rates while eliminating tax loopholes. However, a proposal to raise taxes for individuals who make over $250,000 simply "stokes class warfare," Greenspan said.
AL HUBBARD, Former Economic Adviser to George W. Bush
Social Security has "to be put on sound footing" by increasing the eligibility ages and changing middle- and upper-class allocations, Hubbard said.
Defense spending "clearly can be made dramatically more efficient," he added. Also, income taxes must be reformed by broadening the tax base and closing loopholes.
Hubbard offered some proposals on federal funding of state and local programs that are as innovative as they are controversial. He's opposed to revenue-sharing programs from Washington to state and local governments. Additionally, he said some $600 billion could be saved if states funded and managed their own transportation, education, Medicaid and unemployment programs.
Hubbard said both the George W. Bush and Obama administrations didn't do the economy any favors by trying to prevent a swift decline of home prices. Housing values should fall accordingly, and the markets will correct themselves, he said.
And unemployment benefits? "We pay people for up to two years not to work," Hubbard said, "yet studies show that the majority of people get a job right before their unemployment runs out."
FORMER U.S. SENATOR ALAN SIMPSON, Co-Chairman of The National Commission on Fiscal Responsibility and Reform
Not one to ever mince words, Simpson said he's tired of the "greedy bastards" who are taking advantage of government spending and driving up the federal deficit.
"All day long, there are people bitching about their government," Simpson said, "and all day long, they are hosing the government."
The biggest offenders, he said, are recipients of Medicare, Social Security and Veterans Tricare.
Simpson said Medicare reform is essential for the economy's long-term health. Some of the country's richest people aren't paying a thing for care, because there's no means testing on premiums and co-payments, Simpson said. "Wealthy people should pay more for their procedures," he emphasized.
AARP is one of the most powerful lobbies in the country, with some 40 million members, according to Simpson. Even though AARP has indicated that some cuts would be acceptable, Simpson said the giant organization would rather "beat you to death with rolled up copies of Modern Maturity," than see Medicare or Social Security reduced.
And Simpson railed against Veterans Tricare, the health care program offered to 2.2 million retired members of the U.S. military. He said each person pays an annual premium of $2,450 with no co-payments to cover his or her entire family. As a result, the federal government spends $53 billion annually on a group of relatively young individuals who in turn tend to get government jobs with additional benefits.
"If you are a real patriot, you'll cough up some money," Simpson said. "We are a nation of gimmickers, and there's no gimmickry better than the Veterans' Administration."
FORMER PRESIDENT BILL CLINTON
The last President to sign a balanced budget, in 1997, said America's current financial crisis began from an imbalance that occurred long before the 2008 credit crunch.
Regardless, both the White House and Congress must make swift moves to build up a "confidence premium" with the American public. And both sides must compromise, Clinton said.
At the same time, not all of the solutions need to come from the federal government, Clinton said.
"Ninety percent of what is good for the economy can be done without the government even getting involved," he explained. Corporations "are sitting on trillions of dollars in cash," that they could use hire people. "We need to find a way to change that," he added.
JARED BERNSTEIN, Former Chief Economist to Vice President Joseph Biden
Contrary to perception, the federal budget doesn't need to be balanced to save the economy, said Bernstein, but it does need to get down to about 3% of the country's GDP. How best to do that? Follow much of the Bowles-Simpson recommendations.
Health care spending must be reformed, particularly in the private sector, Bernstein said, because it's private premiums that are growing uncontrollably. Along with President Clinton, Bernstein believes that Rep. Paul Ryan's (R-Wis.) Medicare reform proposals are misguided. They'll cause Medicare costs to rise, not fall, Bernstein said.
Bernstein differed with the Bowles-Simpson commission and Bill Clinton on tax reform, however. Broadening the tax base by lowering everyone's taxes and eliminating loopholes will result in less available revenue, he said. "We can't [fix the deficit] without raising taxes," he said. "Anyone who tells you differently is extremely misguided."
Like former Treasury Secretary Robert Rubin, who also addressed the Aspen crowd, Bernstein said a broader, wholesale discussion is needed about what the federal government should do, and how to adjust the size and spending of the government accordingly.
"Take whatever the free markets don't do best," Bernstein said, "and let the government do it. That, I would argue, includes health care."
CHRISTOPHER HYZY, Chief Investment Officer, U.S. Trust
Of all those who spoke at Aspen, no one was more bullish on the American recovery than Hyzy. U.S. manufacturers of products and durable goods are experiencing a recovery because they have better production quality than their Mexican and Chinese competitors, he said. Also, American companies have competitive transportation costs. "China will buy more durable goods from the U.S, and more manufacturing is coming on shore," he explained.
What's really holding back job creation in America? The tax code, Hyzy said.
ROBERT HORMATS, Undersecretary of State for Economic, Energy and Agricultural Affairs
It took the U.S. 70 years to become a prominent global economic power during the 20th century and that prosperity was built largely by the military and by investments overseas, said Hormats. Going forward, however, the U.S. will need a "frugal foreign policy" regarding the military and "be more conscientious about foreign aid."
At the same time, the U.S. must seek more foreign companies to invest in U.S. businesses domestically and abroad. America must also improve its domestic competitiveness by funding its technology and education sectors so that U.S. employees can compete with other countries. "This is our Sputnik moment," Hormats said.