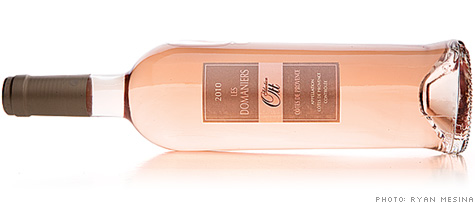 2010 Les Domainers Ott Selection. Rose: $20
(Money Magazine) -- Oenophiles are opening up their wallets again, and a new crop of wine lovers are emerging overseas -- in places like China -- the price of vino is also bubbling up. You can cut your costs, though, with high-tech help and smart substitutions.
Think Italy, New Zealand, and Spain. Production there is booming or increasing rapidly, keeping prices competitive, says Mike Veseth, author of "Wine Wars."
Frugal oenophiles can't go wrong with Garnachas and Riojas from Spain, Sauvignon Blancs from New Zealand, and Pinot Grigios from Italy. Malbecs from Argentina also give a big bang for the buck, thanks in part to a favorable exchange rate between the U.S. dollar and the Argentine peso.
"The quality of these wines is pretty dependable," says Chris Adams of Sherry-Lehmann, a New York City wine purveyor. Find a bottle you like? Order a case - you'll save 10% or more.
Check out brand extensions. In the recession, drinkers flocked to cheaper bottles, leading some wine producers to add lower-priced labels.
For example, a bottle of Cabernet Sauvignon from Napa Valley's Duckhorn Vineyards runs $65 and up -- but you can get a Cab from Duckhorn's Decoy label for just $25 that's nearly as good, says Alyssa Rapp, CEO of Bottlenotes, a site for wine enthusiasts.
Try private labels. Don't turn up your nose at the store-brand wines from Costco (COST, Fortune 500), Trader Joe's, and Whole Foods (WFM). They're often made with grapes from premier regions and are usually great deals.
For example, Costco's 2009 Kirkland Carneros Pinot Noir, from Sonoma Valley, sells for $10. It's comparable to Pinots from California's Chalone and DeLoach wineries that are priced at $12 to $16, says A.C. Radcliffe, editor of costcowineblog.com (not affiliated with the store).
Send The Help Desk your budget questions.
EXPERT PICKS
From Alyssa Rapp CEO, Bottlenotes, an online wine forum
$11 WHITE: 2010 Villa Antinori Bianco Toscana "An ideal summer sipper that gets passed up for better-known Pinot Grigio wines."
$12 SPARKLING: Freixenet Sparkling Cordon Negro Brut "A delightful Spanish Cava that's less than half the price of most French champagnes."
$13 RED: 2007 Cannonball Cabernet Sauvignon "So affordable because it comes from a virtual winery with great grape-sourcing relationships."

$20 ROSE: 2010 Les Domainers Ott Sélection "From renowned Provençal producer Domaines Ott, but a blend of grapes so it costs less."