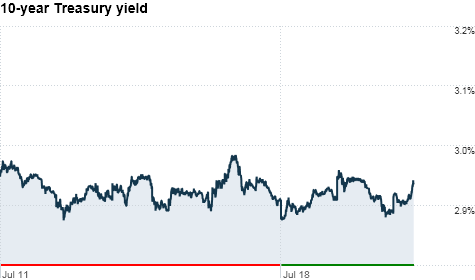 Click on the chart to see additional bond market data.
NEW YORK (CNNMoney) -- For the last week and a half, the yield on the 10-year bond has held below 3%, an indication of strong demand for US debt and a market that's confident the debt ceiling impasse will be resolved.
Wednesday, prices dipped a bit.
The yield on the 10-year Treasury note rose to 2.93%, the yield on the 30-year moved up to 4.25%, the 5-year note edged up to 1.48% and the yield on the 2-year note was basically unchanged at 0.38%. Bond prices and yields move in opposite directions.
"For all the drama in Washington, it seems pretty clear that some sort of debt limit expansion will be done in time," said Pierre Ellis, senior economist at Decision Economics. "The risk of default is relatively low."
There are small signs of progress. The bipartisan Gang of Six's debt-reduction framework announced Tuesday got President Obama's nod of approval.
Congress has until Aug. 2 to break its stalemate and reach a deal over the debt ceiling. After that, it is not clear exactly how the government will make good on its debts.
As the deadline creeps closer, the bond market seems unfazed.
"The most obvious explanation for Treasury market resilience is simply that the vast majority of bond market participants do not believe that a default will occur," said Anthony Valeri, market strategist at LPL Financial, in a research note.
Further, Valeri noted that should lawmakers push the deadline, the Treasury will figure something out.
"In the absence of a new debt ceiling, the Treasury will do everything in its power to maintain timely interest payments and repayment of principal on existing Treasury obligations," said Valeri.
Meanwhile, investors do have other pots on the stove deserving their attention and keeping them desiring the safe-haven of the U.S. Treasury market. Europe, for example.
The leaders of 17 euro zone member nations are set to meet in Brussels on Thursday. They need to hammer out a solution to the Greek debt crisis and figure out some way to prevent the debt woes from spreading across the European Union.
Jittery investors have pushed up borrowing costs in vulnerable countries like Italy and Spain.
"For all its problems, US Treasuries are the most liquid and largest and transparent markets of sovereign debt," said Ellis. "At some point you push your luck too far and the luck runs out and ultimately that may be the case with Treasuries, but we are not there yet."