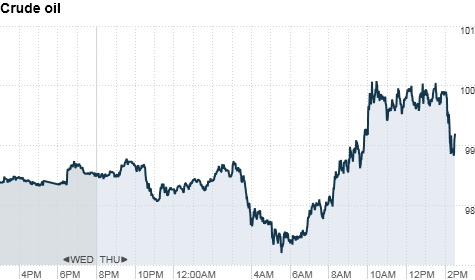 Click chart to track oil and other commodity prices.
NEW YORK (CNNMoney) -- Oil prices spiked nearly 2% Thursday to briefly top $100 a barrel for the first time in nearly six weeks, before pulling back slightly just below the key level.
Crude prices for September delivery settled up 0.7% at $99.13, after hitting $100.16 earlier in the day.
The gains came as European officials met in Brussels and outlined the terms for a second bailout for Greece to contain the debt-ridden country's ongoing fiscal crisis.
"Everything is busting out bullish for oil prices today," said Phil Flynn, senior market analyst at PFG Best. "Europe is bailing out Greece for the umpteenth time, so the euro is on fire while the dollar is getting creamed."
The eurozone currency spiked more than 1% against the greenback. Oil, like other commodities, is priced in dollars, and a weaker buck boosts prices.
In addition to progress over the Greek debt crisis, the dollar is also under pressure as U.S. lawmakers continue to negotiate a deal to raise the debt ceiling and get the nation's fiscal problems under control.
"The agreement has to be more than a Band-Aid package on the debt ceiling, or the U.S. credit rating is still at risk," Flynn said. "Credit ratings agencies have warned that they won't settle for a Mickey Mouse agreement."
A better-than-expected reading on regional manufacturing also helped lift oil prices, said Flynn.
Investors were also in good spirits after the International Energy Agency said it will not release additional crude stocks as part of last month's Libya Collective Action plan to release 60 million barrels of oil.
While oil only popped above $100 a barrel for a short time Thursday, Flynn expects prices will stay elevated given the slew of supportive factors.
"The bulls in the oil market have everything going their way for the time being," he said. "So unless anything changes, we'll see oil prices at these high levels."