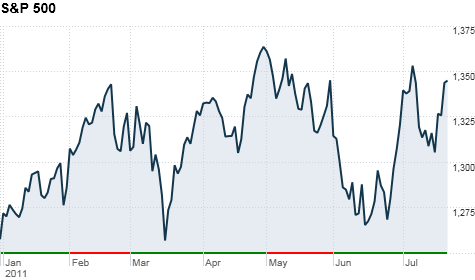 Click the chart for more market data.
NEW YORK (CNNMoney) -- Strap in for an eventful week in the markets.
The debt ceiling clock is ticking and politics is strangling policy in Washington. At stake: The creditworthiness of the United States.
Meanwhile, the end of the week will bring an important report on the economy: The first official reading on growth in the second quarter -- a period when the recovery lost steam.
Finally, 180 companies in the S&P 500 report quarterly financial results. Among them are oil titan Exxon Mobil (XOM, Fortune 500), industrial conglomerate 3M (MMM, Fortune 500), automaker Ford (F, Fortune 500) and drug maker Merck (MRK, Fortune 500). (Check U.S. stock futures)
Earnings season has been solid so far. Of the 143 members of the S&P that have reported results, 75% have beaten analysts' expectations, according to data provided by Thomson Reuters.
"Corporate America is doing very well, and earnings continue to grow and companies are continuing to increase their guidance," said Kate Warne, investment strategist with Edward Jones. "It's a great indication for stock prices going forward."
While earnings remain strong, investors' attention has been elsewhere -- particularly on the U.S. debt crisis.
The Aug. 2 deadline for raising the debt ceiling is rapidly approaching.
On Capitol Hill, legislative leaders spent the weekend in talks to try to strike a deal, which has proven elusive for weeks. By Sunday night, House Republicans and Senate Democrats appeared to still be at impasse, with each side preparing their own proposals and no deal in sight.
Market observers say they remain confident that Congress will raise the legal borrowing cap in time, but each day that passes with more political rhetoric and no agreement adds to investor anxieties.
"While the economic data and company earnings are important, they pale in comparison if the news is that the president and the speaker have reached a deal," said Phil Orlando, market strategist with Federated Investors.
Stocks posted solid gains last week, with the Dow rising more than 1% and the S&P 500 and Nasdaq rising more than 2%. Analysts cited seeming progress on both the U.S. debt ceiling issue and the ongoing European debt crisis as partial reasons.
In the week ahead, investors will get several economic reports. Second-quarter U.S. gross domestic product is at the top of the list.
Economists surveyed by Briefing.com expect that the U.S. economy grew at a mediocre 1.6% annual rate in the second three months of the year, as the Japanese earthquake, bad weather and high commodity prices weighed on economic activity.
On the Docket:
Monday: After the market close, investors will get results from chip maker Texas Instruments (TXN, Fortune 500) and video rental company Netflix (NFLX). The results from Netflix will be closely watched, in part due to the massive run Netflix shares have had this year -- up nearly 60%.
Analysts expect that Netflix will post a profit of $1.11 a share, while Texas Instruments is expected to earn 53 cents per share.
There is no economic data scheduled for release on Monday.
Tuesday: Investors will have a busy day on Tuesday, with companies such as 3M, Ford, US Steel (X, Fortune 500) and First Solar (FSLR) reporting results.
Shipping giant UPS (UPS, Fortune 500), which is typically considered an economic bellwether, also reports before the bell on Tuesday. The company is expected to post a profit of $1.04 per share.
The S&P Case-Shiller home price index is scheduled for release at 9 a.m. ET. The Conference Board's July consumer confidence report and the Commerce Department's new home sales report will be out at 10 a.m. ET.
Economists expect that home prices fell 4.4% in May, while consumer confidence fell to a reading of 56.0 in July. New home sales are expected to remain roughly unchanged at 320,000 units.
Video game publisher Electronic Arts (ERTS) and online retailer Amazon.com (AMZN, Fortune 500) are scheduled to report their results after the closing bell.
Wednesday: Wall Street will get quarterly results from Dow component Boeing (BA, Fortune 500) before the bell on Wednesday. Analysts expect the aerospace giant will post a profit of 96 cents a share, according to Thomson Reuters.
Other companies reporting before the bell include Dow Chemical (DOW, Fortune 500), glass maker Corning (GLW, Fortune 500) and oil conglomerate ConocoPhillips (COP, Fortune 500).
The Commerce Department will release June durable goods figures at 8:30 a.m. ET. The Federal Reserve releasing its July "Beige Book" at 2 p.m. ET.
Economists surveyed by Briefing.com expect that durable good orders rose by 0.4% in June.
After the closing bell, credit card processing company Visa (V, Fortune 500) will report its results.
Thursday: Oil giant Exxon Mobil reports its quarterly numbers before the opening bell. Analysts expect that Exxon earned $2.33 a share, helped in part by elevated oil prices.
The Labor Department will put out its weekly jobless claims numbers at 8:30 a.m. ET; economists expect claims fell by 3,000 to 415,000.
Investors will also get results from MetLife (MET, Fortune 500) and Starbucks (SBUX, Fortune 500) after Thursday's closing bell.
Friday: Two Dow members will report their results before Friday's bell: drug maker Merck (MRK, Fortune 500) and oil giant Chevron (CVX, Fortune 500). Analysts are looking for Merck to post a profit of 95 cents a share, while Chevron is expected to earn $3.56 a share.
Investors will get the first reading on second-quarter GDP at 8:30 a.m. ET. Out after the bell is the Chicago purchasing managers index and the University of Michigan consumer sentiment survey.