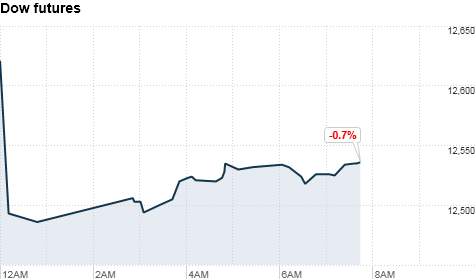 Click chart to track futures.
NEW YORK (CNNMoney) -- Despite a mad scramble from lawmakers to reach some sort of debt ceiling deal before Asian exchanges opened, market reaction was muted Monday as investors continued to give Washington the benefit of the doubt.
Lawmakers from both political parties said they feared a sharp market reaction when talks between House Speaker John Boehner and President Obama collapsed late Friday.
That fear sparked all manner of meetings, negotiations and partisan sniping in Washington over the weekend. Still, lawmakers made no progress on a deal.
But the Dow Jones industrial average (INDU), S&P 500 (SPX) and Nasdaq (COMP) futures were only modestly lower ahead of the opening bell.
Boehner specifically cited the risk of severe market reaction during a conference call with his Republican colleagues Saturday afternoon. He said a plan was necessary head off a negative reaction.
And White House Chief of Staff Bill Daley -- a former JPMorgan Chase (JPM, Fortune 500) executive -- said Sunday that time was running out.
"We are now getting to a point where markets around the world will question whether the political system in Washington can come together and compromise for the greater good of the country," Daley said Sunday on NBC's "Meet the Press."
It's unclear how markets will react as the deadline to raise the debt ceiling approaches -- mostly because the United States has never been in the position of not paying all its bills.
Experts warn that a failure to raise the debt ceiling in time would -- if not immediately, then soon enough -- send shockwaves through the underpinnings of the financial system that could ripple out to individual investors and consumers.
On Monday, it appears the market is likely to give lawmakers a pass.
Federal Reserve Chairman Ben Bernanke said the fallout could be "catastrophic" and "self defeating."
"The view is that the U.S. will at some point this week have a deal done," said Manoj Ladwa, a senior trader at ETX Capital. "The markets seem to be holding up relatively well on that expectation."
The lack of severe reaction -- which ran contrary to lawmakers' expectations -- underscores the dangerous nature of the game being played with international capital markets.
If Congress fails to raise the $14.3 trillion debt limit, Americans could face rising interest rates and a declining dollar, among other problems.
"I don't think world markets have fully factored in the severity of a U.S. default," Ladwa said. "It's not just a big deal for the U.S. It has huge implications across the globe as well."