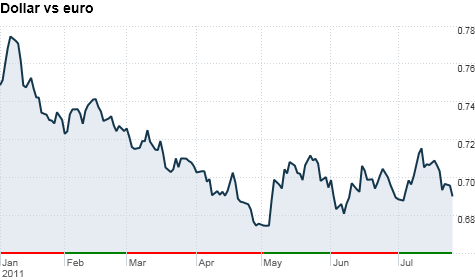 Click the chart for more market data.
NEW YORK (CNNMoney) -- The U.S. dollar lost ground against all of its main trading partners Tuesday, amid growing fears that America's credit rating could be downgraded for the first time ever.
The greenback fell against the euro, Japanese yen, British pound, Swiss franc, Chinese yuan, Australian dollar, Canadian dollar and Mexican peso.
Investors worldwide shunned the U.S. currency, as politicians in Washington remain at odds over a plan to raise the nation's federal borrowing limit. The impasse could lead to a downgrade of the nation's credit rating, if policymakers fail to agree on a framework for debt reduction before the Treasury runs short of cash next week.
"Markets were clearly worried over the outlook for a debt default and the potential damage on market confidence, especially as there would be an increase in funding costs," currency analysts at Sucden Financial wrote in a research report.
President Obama issued an urgent appeal late Monday for Americans to push members of Congress to resolve political differences, for the good of the nation.
Republicans countered that government spending is out of control and called for a short-term deal to raise the debt ceiling temporarily, so that talks on long-term debt reduction could continue.
But Obama has rejected a short-term fix, saying it would only delay a solution and create more uncertainty in the market.
"Markets were also concerned that, even if a default is avoided -- there would only be a short-term decision to increase the debt ceiling, which would increase the risk of a rating downgrade," according to the Sucden report.
While a downgrade remains relatively unlikely, the threat becomes more tangible with every day that a debt ceiling deal is delayed.
But predicting how the dollar would respond to a downgrade is difficult to do because it has never happened before, analysts at Nomura Securities wrote in a research report.
The report suggests that the dollar could sell off in a "knee-jerk reaction in the event of a downgrade." But it could regain ground in the days after a downgrade, as investors shy away from more risky assets.
"The USD may sell off less or even gain if a downgrade leads more sustained risk aversion," the report stated.