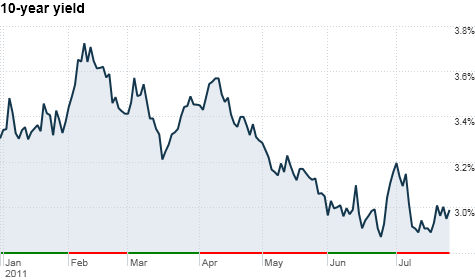 Click the chart for more market data.
NEW YORK (CNNMoney) -- Investors in the bond market are quickly losing patience with what is seen as an epic failure of leadership in Washington over the nation's finances.
But the frustration has yet to translate into a major flight from U.S. Treasuries, which have traded in a relatively narrow range this week.
That's largely because many traders still expect Congress to resolve the current impasse over debt reduction and agree to raise the federal borrowing limit before the Aug. 2 deadline.
"I still believe that the adult voices will eventually drown out the shouts coming from the children," said Kevin Giddis, president of fixed income at Morgan Keegan. "But the risk that the political dysfunction will take us too close to the brink increases with each passing day."
The worry is that the government's credit rating will be downgraded if policymakers cannot agree on a debt reduction plan and raise the debt ceiling before next week's deadline.
Even if there is a last-minute solution, many analysts worry that the nation's unsustainable debt load and the government's inability to come up with a credible long-term fiscal framework could still result in a downgrade.
Economists say a downgrade could cause interest rates to spike for business and consumers. It could also rattle stock markets around the world and undermine the U.S. dollar.
But the impact on the market for U.S. Treasuries is difficult to predict.
Anthony Valeri, a fixed-income strategist for LPL Financial, said the reaction to a downgrade in the bond market "may be muted."
He said the government should be able to continue servicing its debt for several days in the unlikely event the ceiling is not lifted. In addition, he said the Federal Reserve has some flexibility when it comes to controlling interest rates. In addition, the U.S. economy is still growing, which should help the government pay down its debts.
"A downgrade would not necessarily spark a sharp, quick sell-off in Treasuries and, in fact, market reaction may be limited," said Valeri.
He acknowledged that yields on U.S. Treasuries could move higher over time if the government's long-term debt problems aren't resolved. But that upward pressure could be offset by improving economic conditions and rising inflation, he added.
Still, a downgrade of the $1.1 trillion worth of U.S. Treasuries currently outstanding could send shockwaves throughout the global financial system.
"The greatest risk in our view is a downgrade, as it could have knock-on effects across fixed-income markets," analysts at Nomura Securities wrote in a research report.
Nomura examined several areas that could be impacted by a downgrade of U.S. debt, including mortgage-backed assets issued by Fannie Mae and Freddie Mac, private broker dealers and banks, municipalities, insurance companies and money market funds.
Money market funds, for example, hold billions of dollars worth of U.S. Treasuries.
In a report issued Tuesday, Moody's said the uncertainty around the debt ceiling poses direct and indirect risks to money market funds.
The ratings agency said money market funds face the possibility of "missed interest or principal payment on government bonds for a short period of time." There is also the threat of a liquidity crunch if investors panic and pull money out of money market funds in the event of a downgrade, the report said.
Despite those dangers, most analysts do not expect a downgrade to prompt mass selling of U.S. Treasuries by money market funds.
According to the Investment Company Institute, money market funds would not be forced to sell their holdings unless the government's credit rating was lowered eight notches.
In addition, the rules that determine what securities money market funds can hold are based on the U.S. government's short-term credit rating. The main ratings agencies have warned that the nation's long-term rating is at risk of a downgrade.
"A downgrade should not trigger forced selling of Treasuries from money funds," the Nomura report states. "However, even without the need of forced selling, money funds may still choose to reduce their exposures to U.S. Treasuries that could be at risk of missing coupons in case of default."