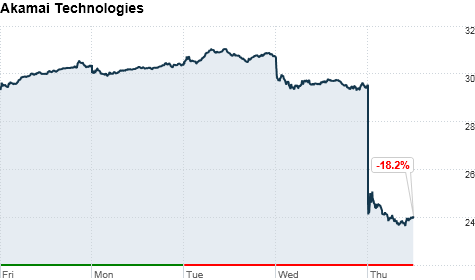 Click chart to track Akamai Technologies' stock.
NEW YORK (CNNMoney) -- This earnings season, the market has been unforgiving to any company that fell short of expectations.
Akamai Technologies (AKAM) missed earnings estimates by a cent and its stock crashed almost 17% to a new low for the year. The Internet data delivery company blamed the results to pricing pressure from growing competition.
Shares of Exxon Mobil (XOM, Fortune 500) slid 1.5% after its latest earnings fell 2 cents short of the consensus estimate. The oil producer still has the biggest market cap in the world.
Sprint (S, Fortune 500) plunged 18% after reporting larger than expected loss for the second quarter. The mobile operator announced a deal for "spectrum sharing" with privately owned LightSquared.
These are some of the popular themes on StockTwits Thursday:
sspencer_smb: If u were the hedge fund left holding the bag w/ $AKAM when all your fake takeover rumors failed. sorry :)
Ziggystz:$AKAM is now trading at 18x trailing 1year earnings ex net cash. Lowest multiple i can see in the last 3 years.
karleggerss: Today's a good example of why to use an #ETF in a lot of cases. $XOM misses and is down but $XLE is up. #Diversification
MercenaryJack: Exxon misses expectations - stocks are like movies, too high hopes leave a bad taste. $XOM, $MACRO
valuewalk: $S down 11%! Einhorn has had some fiascos lately like $YHOO but that was unique and Sprint he has not sold out of $S. One day means little.
DavidFaberCNBC: $S losing pre-paid subs and spending lots of money to keep what they have. what happened to pricing power in cell biz...it's gone.