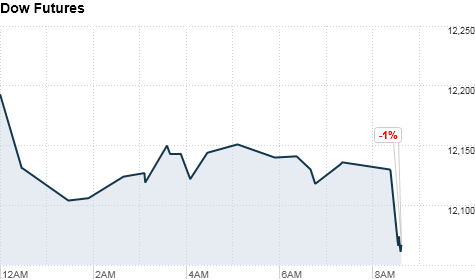 Dow futures fall 128 points after GDP report. Click on chart to check futures.
NEW YORK (CNNMoney) -- U.S. stocks were headed for an early sell-off Friday after the government said economic growth slowed sharply in the second quarter.
Sentiment was already dampened by the government's lack of progress on a debt deal.
The Dow Jones industrial average (INDU), S&P 500 (SPX) and Nasdaq (COMP) futures were all lower ahead of the opening bell. Futures measure current index values against perceived future performance.
Stock futures turned sharply lower after the government said that the U.S. economy grew at a 1.3% annual rate in the second quarter, up from a revised 0.4% rate in the previous three months. That was far worse than expected.
U.S. stocks lost steam late in Thursday's session, pushing the Dow lower for the fifth straight session. It's all about the debt ceiling, which must be raised by Aug. 2, when the Treasury will no longer be able to pay all its bills.
"It's been taken to the wire," said Philip Isherwood, equities strategist at Evolution Securities. "The expectation is still that something is sorted over the weekend."
But investors remain worried that lawmakers won't be able to make a deal in time.
The Republican leadership has informed its members that the House will be in session this weekend."It just doesn't feel rational to drive even for a technical default," Isherwood said. "But politics is not always rational in that sense."
House Speaker John Boehner's plan to raise the debt ceiling did not come up for a vote late Thursday, after he was unable to muster sufficient support from his own caucus.
Even if Boehner's plan does pass the House, Senate Majority Leader Harry Reid has promised the Democratic-controlled Senate will block it, and President Obama has threatened a veto.
In a widening of Europe's debt crisis, Moody's said it may downgrade Spanish debt. The credit rating agency said that while the country's sovereign rating was being placed under review, any downgrade would most likely be "limited to one notch."
Shares of Spanish banking giant Banco Bilbao (BBVA) were down about 1% in premarket trading.
Economy: The government reported that second-quarter GDP growth was only 1.3%.
After the opening bell, the Chicago purchasing managers index and the University of Michigan consumer sentiment survey will be released.
Companies: Drugmaker Merck (MRK, Fortune 500) reported earnings of 95 cents per share -- in line with analyst expectations. The company's revenue checked in at $12.1 billion.
The company said it that it would reduce its workforce by 12% to 13% from 2009 levels by the end of 2015 as the next phase of a restructuring program.
Dow member and oil giant Chevron (CVX, Fortune 500) will also report before the bell. Analysts are looking for Chevron to earn $3.56 a share.
Shares of Starbucks (SBUX, Fortune 500) were up 2.4% in premarket trading after the company beat earnings expectations on Thursday.
World markets: European stocks dropped in morning trading. Britain's FTSE 100 lost 1.0%, the DAX in Germany was off 1.0% and France's CAC 40 slid 1.3%.
Asian markets ended the session lower. The Shanghai Composite edged lower 0.3%, the Hang Seng in Hong Kong fell 0.6% and Japan's Nikkei declined 0.7%.
Currencies and commodities: The dollar strengthened against the euro and British pound, but weakened against the Japanese yen.
Oil for September delivery slipped 80 cents to $96.64 a barrel.
Gold futures for August delivery rose $2.20 to $1,615.60 an ounce.
Bonds: The price on the benchmark 10-year U.S. Treasury rose, pushing the yield down to 2.92% from 2.95% late Thursday.