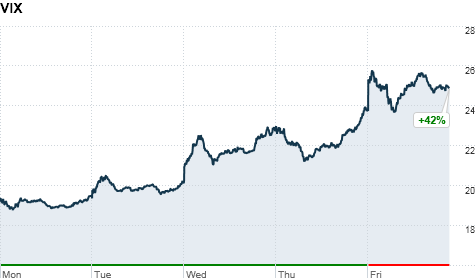 Click the chart to track the VIX, the market's fear gauge.
NEW YORK (CNNMoney) -- The market's fear factor index spiked this week, as investors grow concerned about the consequences of the ongoing stalemate in Congress over raising the U.S. debt limit.
The fear gauge-- the CBOE Market Volatility Index (VIX), commonly called the VIX -- has shot up more than 40% this week to its highest levels since March, when the Japanese earthquake and nuclear crisis rocked the market. But the measure still sits below 30, the level that denotes high fear in the marketplace.
As nerves have frayed, stocks are on track to deliver their worst weekly performance in year, with the three major indexes down about 4%.
What's keeping investors on edge? If lawmakers fail to raise the $14.3 trillion debt ceiling by Aug. 2, the Treasury will not be able to pay its bills on time or in full.
Even if Congress is successful in striking a deal ahead of the deadline, the nation's Triple-A credit rating may still face a downgrade, rating agencies including Standard and Poor's and Moody's have warned.
"We're not seeing a huge panic like we did in 2008, but investors just don't know what to anticipate or what the consequences may be," said Joseph Saluzzi, co-head of equity trading at Themis Trading.
Investors are also troubled by the latest reading on U.S. economic growth, Saluzzi said.
According to new government figures released Friday, consumers all but shut their wallets in the second quarter, causing the U.S. economy to grow at a tepid pace. And to make matters worse, growth in the first quarter was much slower than initially thought.
"The GDP numbers are showing no growth in an economy that's supposed to have been recovering for the last three years," Saluzzi said. "That's an even bigger fear."