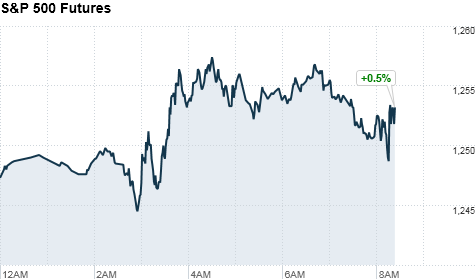 Click chart for more premarket data.
NEW YORK (CNNMoney) -- U.S. stock futures pointed to a higher open Wednesday, as investors digest two mixed jobs reports just two days ahead of the government's key monthly jobs report.
At the same time, bond yields remained at nine-month lows and gold hit a fresh record high amid concerns about a stalling economic recovery.
Dow Jones industrial average (INDU), S&P 500 (SPX) and Nasdaq (COMP) futures were up about 0.5% ahead of the opening bell. Futures measure current index values against perceived future performance.
The weak economy continues to underpin sentiment so the early indications for a bounce are largely due to "talk of there being oversold conditions," said Mark Luschini, chief investment strategist at Janney Montgomery Scott. He also said that traders are trying to keep the S&P 500 above the psychological barrier of 1,250.
U.S. stocks plunged on Tuesday, as fears about a weak U.S. economy were enflamed, after investors got another disappointing economic report -- this time on consumer spending.
The grim report sparked the 8th consecutive daily decline for the Dow -- a losing streak not seen since October 2008, when the financial system was in the depths of the crisis.
The nervousness is prompting investors to seek out some safety in bonds and gold. The yield on the 10-year Treasury note hit 2.62% in early trading - its lowest level since early November.
Gold prices, meanwhile, surged to a fresh record high of $1,675.90 an ounce, though in more recent trading they backed off this high to $1,666.50.
Though markets are expected to recoup some losses, investors remain timid as questions about the economic recovery and the United State's pristine credit rating linger.
Fitch Ratings and Moody's Investors Services confirmed the nation's AAA status Tuesday, following a resolution to raise the debt ceiling and cut fiscal spending. But Standard & Poor's has not yet weighed in on the country's debt rating, after putting it on negative watch last month.
Economy: Investors are focused on the job market with the all-important July jobs report coming Friday.
Ahead of that report, two other reports on Wednesday will give investors something to chew on.
The number of planned job cuts surged to a 16-month high in July -- rising 60% in July to 66,414 from June's 41,432, according to outplacement consulting firm Challenger, Gray & Christmas.
The ADP private employment report presented a more positive picture of the job market. The payroll processing firm said the private sector gained 114,000 in July, beating expectations. Economists had expected the private sector to have hired 100,000 fresh workers in July.
All of that comes ahead of Friday's report, which is expected to show that the U.S. economy created 75,000 jobs in July, according to a consensus of 16 economists surveyed by CNNMoney.com. Counting only the private sector, the forecast is for a gain of 99,000 jobs.
In June, the economy added a paltry 18,000 jobs. The unemployment rate is expected to hold steady at 9.2%.
In other economic data, the Commerce Department will release June factory orders data and the Institute for Supply Management's will put out its service sector index at 10 a.m. ET. Economists are looking for factory orders to fall 1%, and the ISM's service sector index to fall to a reading of 52.
Companies: Time Warner (TWX, Fortune 500), the media giant and parent company to CNNMoney, beat earnings expectations. The stock edged down in premarket trading.
Time Warner reported net income of $638 million, or 59 cents per share, and revenue of $7 billion. The media company was expected to report a profit of 56 cents per share and revenue of $6.8 billion.
Dunkin' Donuts (DNKN) reported its first earnings since going public last week. The java franchise reported that global sales jumped 7% in the second quarter, compared to the year-ago quarter, while same-store sales in the U.S. edged up about 3%.
But the growth in sales failed to lift profits. Net income was practically unchanged at $17.2 million for the quarter, compared to the year-ago net profit of $17.3 million. The company's stock was down about 3% in premarket trading.
Shares of Open Table (OPEN) dropped 6% in premarket trading after the online provider of restaurant reservations disappointed investors by missing sales estimates.
Other notable companies reporting results include Clorox (CLX, Fortune 500), MasterCard (MA, Fortune 500) and Prudential (PRU, Fortune 500).
World markets: Fears about a slowing global economy triggered losses in world markets.
European stocks were all lower in morning trading. Britain's FTSE 100 tumbled 0.8%, the DAX in Germany fell 0.9% and France's CAC 40 decreased 0.2%.
Asian markets ended the session in the red. The Shanghai Composite slipped 0.3%, the Hang Seng in Hong Kong dropped 1.9% and Japan's Nikkei tumbled 2.1%.
Currencies and commodities: The dollar was lower against the euro, the Japanese yen and British pound.
Oil for September delivery slipped 61 cents to $93.18 a barrel.