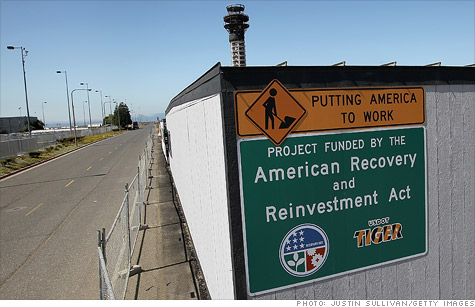 WASHINGTON (CNNMoney) -- A labor dispute is raging at the heart of a congressional spat over Federal Aviation Administration funding. The issue has left 4,000 federal workers sitting at home unpaid and tens of thousands of construction workers without work.
Both the House and Senate went on vacation without coming to a deal to extend FAA powers and funding. The agency has now been on a temporary shutdown for nearly two weeks.
Before the most recent breakdown on a deal to extend its funding, the FAA had been working on temporary funding bills passed 20 times, extending back to the Bush Administration.
While the most recent stopgap to put federal workers back on the job didn't include union measures in writing, everyone involved -- from lawmakers to workers -- acknowledges that a labor dispute has become a major roadblock on a deal to fund the FAA.
The dispute's roots go back to last July, when the national board that referees unions for the airways and train systems, the National Mediation Board, made it easier for airline and railroad employees to organize.
For 76 years, airline and train employees who didn't cast ballots in elections to organize a union were counted as "no" votes against unionization. That was at odds with the way other unions, overseen by the National Labor Relations Board, organize. The NLRB limits the counting of union election votes to those who cast ballots.
Ever since the National Mediation Board limited no-votes, making it easier to organize, Republican lawmakers started pushing to either undo that rule or balance it, by making it easier for unions to "decertify," or unorganize.
Sen. Orrin Hatch, R-Utah, on Tuesday said Congress needed to take a stand against the mediation board rule, because it allowed as few as 51 employees to unionize a company of 1,000, if only 100 showed up to vote, he said.
"I believe that what the National Mediation Board did is absolutely wrong and somebody has to stand up to them," Hatch said.
House Republicans have defended their current short-term funding bill, saying it doesn't include language about unionizing -- while acknowledging that the labor dispute remains "unresolved," according to a statement from Rep. John L. Mica, a Florida Republican who runs the House Transportation panel.
But Democrats say even though it's not in writing, the labor dispute is holding things up. Democratic Sen. Jay Rockefeller of West Virginia said House Speaker John Boehner gave him a "direct message" that a solution to the dispute would have to included in a deal on FAA funding.
Democrats and union groups have been blaming Delta Airlines for keeping FAA workers at home, since that company is the only major airline that's not unionized. Also, the mediation board is reviewing a challenge to last year's failed unionization effort at Delta Airlines (DAL, Fortune 500).
Despite Democrats' claim that Delta is central to the FAA funding stalemate, the airline isn't on the top 20 list of campaign donors to lawmakers accused of holding things up. The airline's political committee spent just $345,000 on elections last year, with both parties benefiting.
And with a lobbying tab now at $1 million so far for 2011, Delta hasn't hiked its lobbying presence compared to past years, according to records collected by the Center for Responsive Politics.
Delta officials are "disappointed that Congress was unable to reach an agreement to extend the authorization of the Federal Aviation Administration's funding," company spokesman Trebor Banstetter said in a statement to CNN.
As an industry, the airlines -- including Delta -- have acknowledged they are lobbying to get the mediation board's vote-counting rule reversed.
The aviation industry has spent $38 million on lobbying so far this year, with the heavy hitters including FedEx, which spent $6 million on lobbying; United Postal Service, with $2.6 million; and American Airlines, with $2.5 million.