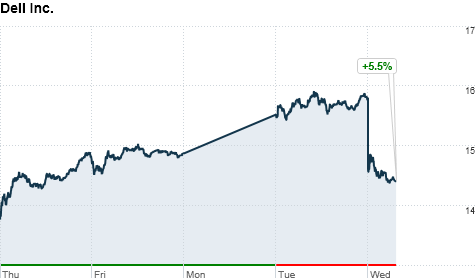 NEW YORK (CNNMoney) -- News from the tech sector continues to disappoint, judging by the market's reaction to the latest corporate earnings reports.
Dell (DELL, Fortune 500) managed to beat its earnings estimates, but its stock still fell 9% after the tech giant reduced its revenue guidance for 2011.
Best Buy (BBY, Fortune 500) announced that it is sitting on more than 200,000 TouchPads, after it sold only 25,000 of the 270,000 ordered. The retail chain asked Hewlett-Packard (HPQ, Fortune 500) to take the inventory back. HP stock dropped 3% during midday trading, with shares already less than 10% from their 52-week low.
Meanwhile Tudou (TUDO) -- which has already been labeled as one of the "YouTubes of China" -- raised $174 million, pricing its U.S. initial public offering at $29 per share. But shares of the company fell 7% on their market debut.
Shares of rival Chinese Internet Video Company, Youku (YOKU), jumped nearly 20% during Wednesday's trading session.
These are among the popular themes on StockTwits:
Ktr8der: Funny how $DELL's weak guidance is the big focus today, when the company has not been relevant to tech growth in years.$AAPL $INTC $ORCL
firstadopter: Last quarter the $DELL call was high-fiving "we're doing awesome" tone. This quarter it's 180 degrees opposite with tons of "stuttering."
TrendRida: If you stuff the channel & the channel wants you to buy it back does it count as 2 sales. $HPQ
Techinsidr: Never a good sign for a new product when you drop the price by $100 right off the bat. #nopricingpower #HPTouchpad $HPQ
Street_Insider: $YOKU was the 'old' YouTube of China. Now $TUDO takes that moniker... The China's (fill in blank) keeps evolving.
bill: This may be part of $YOKU pop-Rumor: Tencent to Invest in Youku | Marbridge Consulting - China Internet News.