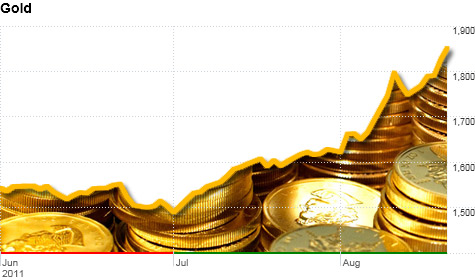 Gold keeps hitting record highs as fearful investors turn to the metal as a safe haven. Click the chart for more data on commodities.
NEW YORK (CNNMoney) -- Nervous investors hoping for a reprieve this week will be disappointed.
The past month has been nothing but a disaster for stock market investors. The S&P posted its biggest four-week loss since March 2009. Meanwhile, safe haven plays like gold and U.S. treasuries have soared, with gold hitting a new record high day after day.
This week will be fairly quiet as far as scheduled economic and company events, but fears about the U.S. possibly heading into another recession and the financial crisis in Europe are expected to weigh heavily on trading.
The big event for investors will be on Friday, when Federal Reserve Chairman Ben Bernanke will give his keynote speech at the Kansas City Fed's annual retreat in Jackson Hole, Wyo.
Bernanke is faced with a turbulent and declining market combined with investor fears that the U.S. economy is heading into an economic downturn, just as he was when he appeared at the same event one year ago.
At the time, the Fed chairman reassured investors by raising the possibility that the Federal Reserve would do another round of quantitative easing in his speech. The central bank implemented that plan a few months later.
Investors aren't sure what to expect from Bernanke on Friday. Some believe he will bring up the possibility of a third round of quantitative easing - commonly nicknamed QE3. Others think Bernanke will only re-emphasize the central bank's statement from earlier this month, when the Fed said it planned to hold interest rates at near-zero levels for at least two years.
Either way, investors hope to see some sort of clear leadership from the Fed chairman.
"What's worrying the markets is the perception that there isn't much more that can be done by the Fed and politicians," said Rob Lutts, chief investment officer with Cabot Money Management. "All three -- the White House, the Fed, and Congress - are in a bind that I have never seen before."
Headlines out of Europe will also dominate market direction this week.
Europe's financial situation is a mess, it's getting worse, and Wall Street has zero confidence that politicians will be able to fix it. Those fears have spilled over into the region's banking sector, where rumors that European banks are having trouble getting financing are stirring up ugly memories of the weeks leading up to Lehman Brothers' collapse. Many believe a default is inevitable.
"Europe is at a very pivotal point right now [as far as] deciding the fate of the whole euro zone," said James Keenan, a portfolio manager with BlackRock.
The major European markets fell between 5% and 8% last week. Europe's declines helped spark the massive sell-off U.S. investors saw on Thursday, where the Dow plunged more than 400 points.
Investors will have a few other notable items to work through this week. The Commerce Department's durable goods orders report on Wednesday will be closely watched as will the second reading on U.S. second quarter GDP, which is out on Friday.
On the Docket --
Monday -- There are no scheduled economic reports or company earnings out on Monday.
Tuesday -- Investors will get the Commerce Department's new home sales report at 10 a.m. ET. Economists surveyed by Briefing.com are looking for new home sales to decline to 310,000 annualized units, from the 312,000 reported for June.
In earnings, condiment and sauce company H.J. Heinz (HNZ, Fortune 500) will report before the opening bell.
Wednesday -- A closely-watched piece of economic data will be the Commerce Department's report on durable goods for July, which is out at 8:30 a.m. ET. Durable goods, or items designed to last two years or longer, are typically purchased by consumers and corporations when they feel confident about the economy.
Economists forecast that durable good orders rose 2% in July, up from the 1.9% reading in the prior month. Excluding volatile transportation orders, durable good orders are expected to be down 0.4%.
Applied Materials (AMAT, Fortune 500) reports its quarterly results before the bell on Wednesday.
Thursday -- The Labor Department's weekly jobless claims figures will be out at 8:30 a.m. ET. Investors are looking for unemployment claims to fall 8,000 to 400,000 claims.
Friday -- Federal Reserve Chairman Ben Bernanke will give his speech at the Kansas City Fed's annual retreat at Jackson Hole, Wyo.
Also on Friday, the Commerce Department will release its second reading on second quarter GDP at 8:30 a.m. ET, followed by the University of Michigan's consumer sentiment survey at 9:55 a.m. ET.
Economists expect the Commerce Department to revise second quarter GDP down to 1.1% from a previously-reported 1.3%. The University of Michigan sentiment survey is expected to rise slightly to a reading of 55.4 from the multi-year low of 54.9 reported two weeks ago.