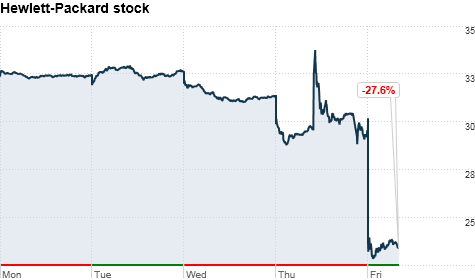 Click the chart to track HP's stock.
NEW YORK (CNNMoney) -- Hewlett-Packard's investors woke up Friday to a 20%-plus loss after the tech giant announced drastic changes in its business strategy.
HP has decided to move away from the highly competitive hardware business and focus on the higher-margin software side. The mobile operating system WebOS is also for sale.
In addition, HP (HPQ, Fortune 500) announced a $10.25 billion acquisition of the U.K.-based Autonomy, which is considered one of the leaders in enterprise information management software.
HP lowered its revenue guidance for a third time this year, citing weakening consumer and government spending. The company lost more than 50% of its market cap over the past 18 months, and its shares are currently trading at levels not seen since 2005.
On the other hand, Salesforce.com (CRM) topped earnings and revenue estimates for the second quarter. Despite the upbeat report and guidance, shares of the biggest consumer relationship management company advanced only 1% in midday trading. Salesforce.com's stock is still down 11% year-to-date.
These are some of the popular themes on StockTwits Friday:
jarsch: $AAPL is killing companies left and right and even in different market segments, first $RIMM now $HPQ.
daytradingshrink: $HPQ will fall further on the uncertainty behind its business model. No one can answer what kind of company it is now. Leo is a madman!
charlesrotblut: Among the mistakes $HPQ made with WebOS were not recognizing the value was in the interface (not the OS) & ignoring the Palm name.
JayBWood: $CRM and $HPQ today a great illustration of how 'cheap' does not equal 'value', as well as the inverse.
TechStockRadar: Someone tell Benioff things are bleak, he's too happy. Q2 Dfd rev +37%. Added record 6,300 net new custs. # of $1-mil deals +40% y/y. $CRM
techinsidr: $CRM - classic example of how a great report is still not gonna move the needle in this market.