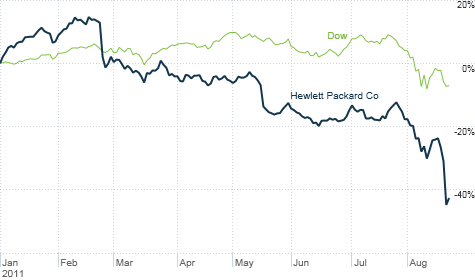 Hewlett-Packard was one of the worst performers in the Dow even before it announced a major restructuring. For more on the Dow 30, click the chart.
NEW YORK (CNNMoney) -- The Dow Jones industrial average already has a successful technology company that has pulled back on consumer gadgets in order to emphasize software and services. Its name is IBM.
With that in mind, does the Dow still need Hewlett-Packard (HPQ, Fortune 500), the company that's desperately trying (and so far failing) to emulate IBM (IBM, Fortune 500)?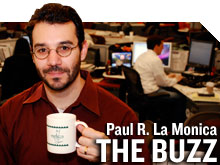 You can call HP IBM Lite. Or Little Blue if you will. But HP, with a market value hovering around $50 billion, may no longer be worthy of remaining in the Dow.
Forget about the fact that HP is buying British software maker Autonomy and killing its nascent tablet and smartphone business. If HP goes ahead and spins off its personal computer business as planned, it will lose nearly a third of its revenue stream.
By doing so, that should enable Apple (which is not in the Dow) to surpass HP as the largest tech company in the U.S. as measured by annual sales. Isn't the Dow supposed to have industry leaders in it?
HP is currently expected to report revenue of $133.4 billion in fiscal 2012, which ends in October of next year. That includes PC sales. Apple (AAPL, Fortune 500), meanwhile, was already inching closer to HP. Analysts are forecasting that it will generate $133 billion in revenue for its fiscal 2012, which ends in September.
So the case to add Apple to the Dow, which I first began making in April 2010, is even stronger now. If you simply removed HP and put Apple in its place, the Dow would not be more tech-heavy. There would still be 5 tech firms (Intel (INTC, Fortune 500), Microsoft (MSFT, Fortune 500) and Cisco (CSCO, Fortune 500), in addition to IBM.)
Sure, one knock on Apple is that its stock price -- at a gaudy $360 a share -- is relatively high. That's a potential problem since the Dow is price-weighted and not market value-weighted like the S&P 500. So a big move in Apple's stock could have an inordinate amount of sway over the Dow.
But that's nothing that a stock split wouldn't solve. And although Apple hasn't split its stock since 2005, at least it has split the stock before. So it's reasonable to expect Apple might one day split again. It's not Google (GOOG, Fortune 500), which has vowed to not split.
Now, if HP is cut from the Dow, it might make sense to look at other ways to revamp this most azure of blue chip indexes.
The last time the Dow was revamped, GM (GM, Fortune 500) and Citigroup (C, Fortune 500) were removed in 2009 and replaced by Cisco and insurer Travelers (TRV, Fortune 500). Before that, AIG (AIG, Fortune 500) was booted in September 2008 after it required a massive government bailout. Kraft (KFT, Fortune 500) replaced AIG.
But the editors at The Wall Street Journal, who are in charge of selecting and removing the Dow components, typically like to make several changes at once as opposed to doing them piecemeal. Historically, it is common for three or more members to be replaced in one clip.
So if HP is given the old heave-ho, here are some other suggestions for companies that could get cut.
No Kraft. Pepsi.
The company is planning to split into two firms, one for snacks (it would include Oreo cookies and Cadbury chocolates) and the other for what the company dubs its "grocery" business. That unit would include the company's namesake macaroni and cheese as well as Oscar Mayer and Maxwell House.
Kraft already was one of the smaller firms in the Dow (with a market value of about $60 billion and estimated revenue of $54 billion this year.) So when the company breaks up, the Dow will either have to choose the larger of the two Krafts (the snack business is expected to have sales around $32 billion) to stay in the index or just replace it altogether. I vote for the latter.
Who could replace Kraft? If the editors at the WSJ want another consumer company, you could hardly go wrong with PepsiCo (PEP, Fortune 500).
Sure, the Dow already has Coca-Cola (KO, Fortune 500). But Pepsi is actually bigger than Coke in sales (if not market value) and is also more diverse than Coke. Pepsi owns snack food unit Frito-Lay as well as Quaker Foods.
But for those who still quibble with the fact that Coke and Pepsi are too similar, I ask you this. How different are Verizon (VZ, Fortune 500) and AT&T (T, Fortune 500)? Or Chevron (CVX, Fortune 500) and Exxon Mobil (XOM, Fortune 500)? Or Pfizer (PFE, Fortune 500) and Merck (MRK, Fortune 500)? Or JPMorgan Chase (JPM, Fortune 500) and Bank of America (BAC, Fortune 500)?
All's Wells? Or has the Dow driven a Ford lately?
That leads me to my final Dow dog. The WSJ editors may soon have no choice but to deal with the train wreck that is Bank of America. The stock is down more than 50% this year and was getting crushed again Monday.

Of course, market performance should not be the reason why a stock is removed from the Dow. But it's hard to separate market performance from reality.
Remember, GM, Citi and AIG were all removed largely after their stocks tanked. But the real reason they were removed was because the government had to step in and prop them up. And that's because their stocks tanked.
If BofA needs more federal support to deal with numerous mortgage-related headaches, it may also wind up needing to be shown the door at the Dow. But even if it doesn't, it could be forced to sell more assets to raise capital -- which would then put BofA in the same restructuring camp as HP and Kraft.
If BofA gets bumped from the Dow, Wells Fargo (WFC, Fortune 500) (whose market value is nearly double BofA's) could make sense as a suitable bank replacement.
Or the WSJ editors could decide that it doesn't need to replace BofA with another financial. The Dow would still be home to Chase, Travelers and American Express (AXP, Fortune 500). Also, GE (GE, Fortune 500) is a quasi-financial wolf in industrial sheep's clothing.
United Parcel Service (UPS, Fortune 500), currently a member of the Dow Jones Transportation Average (DJT), is certainty big enough and important enough to be considered for a promotion to the Dow 30. Its market value is above $60 billion and it's estimated to pull in $53.5 billion in revenue this year.
It seems silly to exclude UPS from the Dow 30 just because it's also in the transports. The fact that the I in DJIA stands for Industrial is now, at best, a misnomer and at worst an anachronism. What's "industrial" about AmEx, Disney (DIS, Fortune 500) and Wal-Mart (WMT, Fortune 500) for example?
Or here's a thought. The WSJ crew could decide to bring Detroit back to the Dow. Ford (F, Fortune 500) could make sense. Although the stock has taken a beating this year, it's still widely acknowledged as the best of the Big 3.
And even though its market value of about $37 billion is a tad small, that's still big enough to be worth more than the two smallest Dow members -- Alcoa and Travelers -- combined. Plus, Ford's market value is not that much lower than Boeing and DuPont.
Still, whatever happens to BofA and Kraft, it's becoming clearer that HP may have worn out its welcome in the Dow. The only businesses you can clearly say it's a "leader" in are printers and servers. Good luck with that.
The opinions expressed in this commentary are solely those of Paul R. La Monica. Other than Time Warner, the parent of CNNMoney, and Abbott Laboratories, La Monica does not own positions in any individual stocks.