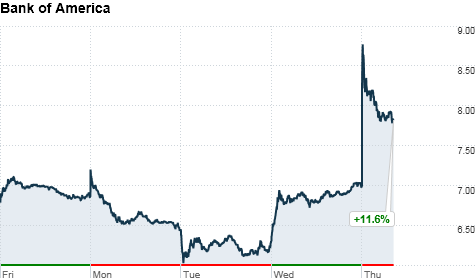 Click the chart for more data on Bank of America.
NEW YORK (CNNMoney) -- When was the last time you made a billion dollars in five minutes? Warren Buffett just did.
Shares of Bank of America (BAC, Fortune 500) were up 18% today on the news that Buffett's Berkshire Hathaway (BRK) purchased $5 billion worth of Bank of America preferred stock.
The deal includes a 6% annual dividend, the option for BofA to buy back the shares at any time for a 5% premium and warrants for Berkshire to purchase 700 million BofA shares at $7.14 each.
Berkshire made similar deals with Goldman Sachs (GS, Fortune 500) and General Electric (GE, Fortune 500) during the financial crisis in 2008.
Meanwhile investors are trying to assess the potential impact of Steve Jobs' resignation on Apple's (AAPL, Fortune 500) stock and on the company.
Jobs returned to Apple in 1998 when it was a struggling company with a market cap under $6 billion. Now 13 years later, Apple has a $350 billion market cap, making the company the second-biggest in the U.S. after Exxon Mobil (GS, Fortune 500).
These are the most popular themes on StockTwits on Thursday:
BergenCapital -- $BAC - perhaps what this really accomplishes for $BAC is the ability to do a less-dilutive secondary than previously rumored $6 offer price
supertradetimer -- $$ Buffett did not buy $BAC common shares, got a preferred deal that pays him more then Treasuries to wait. No reason to buy for rest of us.
OptionRadar -- Incredible the amount of $BAC weekly calls bought and puts sold yesterday...and now this, wow - another Buffett Leak like Lubrizol?
johnwelshtrades -- By the way, this $BAC deal tells me no QE3 tomorrow for sure now....when you parade out the dinosaurs that is what happens
AronPinson -- After last nights $AAPL news, who would of thought that it wouldn't be the number one news / market moving story of the day? $BAC
JayBWood -- I have to say, I'm surprised by the calm reaction to $AAPL today, if it holds, I will give a rare hat tip to the "masses"
howardlindzon -- The germans are choking on their $351 $AAPL shorts.....Steve Jobs wins, even when he is losing...The Klink trade gone bad