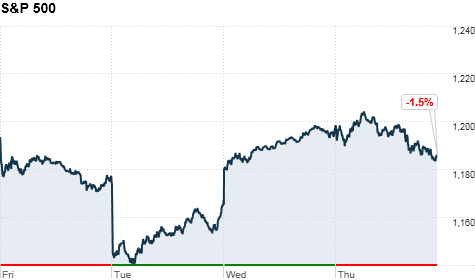 Click the chart for more stock market data.
NEW YORK (CNNMoney) -- It is fair to say that the market is curious about Obama's speech tonight, but does not really hold its breath for any wonders.
Record high unemployment is still Obama's Achilles' heel and he's expected to address it with a new plan of action.
Over the past three years, the market has become addicted to government stimulus and has been conditioned to anticipate it and even discount it on first signs of economic weakness.
This is why, it is not surprising that the S&P 500 (SPX) is up more than 4% this week.
While new stimulus is almost a given in the United States, Europe continues to implement austerity measures. As a result, many of its troubled economies still struggle with negative growth, high unemployment and rising yield on government bonds.
The stock market tend to simultaneously reflect and anticipates economic weakness. The Italian stock market (EWI) is down 24% year-to-date. France (EWQ) is down 15% for the same period.
Meanwhile, Amazon (AMZN, Fortune 500) finally reached an agreement with California on the sales tax issue. Under the deal, the biggest U.S. online retailer would delay collecting taxes until September 2012.
States have been struggling to cope up with their budgets deficits and online retailers are a natural target for new revenue.
These are some of the themes attracting interest on StockTwits Thursday:
fundmyfund: $$ Wondering what year it will be when the federal govt or central bank do not need to 'help' with stimuli = thinking 2019ish
SuperTradeTimer: $$ Ignore the hype around Obama speech tonight. If he had a viable jobs plan, he would have used it by now. $SPY
Benzinga: Trichet Says Governments Must Honor Sovereign Signature; Crucial That Austerity Measures Implemented $$
ppearlman: $AMZN is no longer a startup & the need to foster online commerce has long passed. amazing they still fight to avoid taxes 13 yrs later.
roykaller: I buy from $AMZN for the time savings and convenience, not to save sales tax.
RaviRomo: The dam is bursting. Sales taxes are here for all online retailers as $AMZN agrees to collect California sales taxes from 2012.