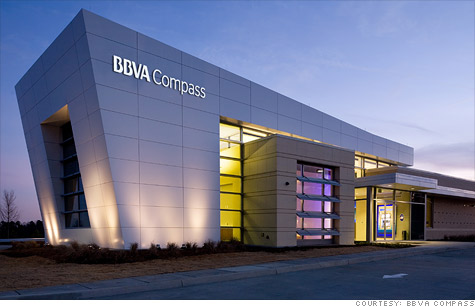 Spanish bank BBVA is already a big presence in the United States with its BBVA Compass franchise. Some think more European banks need to start buying American lenders.
NEW YORK (CNNMoney) -- European banks, you may have heard, are in a world of hurt.
Greece's debt woes threaten to spread across the continent, leading to more credit problems for Spain, Portugal and Italy. And that could put a serious dent in the balance sheets of major French banks as well as their Italian, Spanish and German counterparts.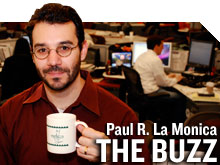 But there's a potentially crazy way for European banks to fix their problems. Start merging.
There has already been one deal between two struggling European banks. Late last month, Greek banks Alpha Bank and EFG Eurobank agreed to combine after getting a boost of capital from a sovereign wealth fund in Qatar.
But some experts suggest that deals won't be limited to the continent.
Larger European banks could go on the offensive and look to buy up smaller banks in the United States in order to get a much needed deposit boost. That could help alleviate future funding problems down the road.
Yes, now may seem like the worst possible time for any European lender to be looking at expansion. But just in the same way that "stronger" U.S. banks took advantage of the 2008 credit crisis to buy up bank assets, this could be a good opportunity for "healthier" European banks to go on the hunt too.
European banks may have also received a reprieve (and perhaps a green light to go shopping?) after the European Central Bank, Federal Reserve and other global central banks announced a coordinated effort Thursday to provide dollar liquidity to Europe.
Giving the banks more liquidity could be the first step in shoring up the balance sheets of the most troubled European lenders.
"European banks are likely to be recapitalized," said George Feiger, CEO of Contango Capital Advisors in San Francisco. "There is a dirt cheap deposit base in the U.S. that European banks need."
There is precedent for European banks looking to bulk up in the United States. Two leading Spanish banks, BBVA (BBVA) and Banco Santander (STD), already have a significant presence in the U.S.
BBVA bought Alabama-based bank Compass in 2007 and followed that up with the purchase of failed Texas lender Guaranty Bank in 2009. The combined U.S. bank franchise is now known as BBVA Compass. Santander acquired the Pennsylvania-based Sovereign Bank in 2009.
But will any big deals happen anytime soon? Probably not.
Ralf Scherschmidt, manager of the Oberweis International Opportunities Fund (OBIOX) in Chicago, agreed that more European banks could strengthen themselves by purchasing American banks. But he said that while that could help stabilize Europe's banks over the long haul, it's not viable for them to be doing so right now.
In fact, it may never be viable.
"The only banks that would be able to make deals would be ones that have strong franchises and healthy capital levels," said Chris Bingaman, manager of the Diamond Hill Financial Long-Short Fund (BANCX) in Columbus, Ohio
"There are lots of European banks that need deposit-based funding but they may not be in the best position to pull off a deal. If anything, I wouldn't be surprised if it's the other way around and more European banks sell U.S. assets," he added.
That is already happening. Despite the increased interest in the U.S. by two top Spanish banks, other European banks are pulling out of America.
HSBC (HBC) recently agreed to sell a big chunk of branches in New York and Connecticut to First Niagara (FNFG) and it also is unloading its U.S. credit card portfolio to Capital One (COF, Fortune 500).
And last year, Allied Irish Bank sold its 22.5% stake in Buffalo-based M&T Bank (MTB).
Bingaman said that French bank BNP Paribas, for example, could sell its San Francisco-based subsidiary Bank of The West if it's pressed for capital.
But Feiger doubted that it will come to that. After all, BNP was the one big French bank that wasn't downgraded by Moody's earlier this week.
However, Feiger said that Royal Bank of Scotland (RBS), which is now majority-owned by the British government, could be forced to sell its U.S. subsidiary Citizens Bank.
Feiger conceded that it's still a very delicate situation in Europe though. But he believes most of the continent's bigger banks will get bailed out like their large American counterparts were a few years ago. After that, European banks will eventually go on the prowl.
"The crisis is still upon us. The European banks are not going to start calling around on Monday to American banks," Feiger said. "But the only thing stopping them from doing deals now is they are still fighting for survival."
Reader comment of the week. I wrote on Thursday about why I think Apple can pay a dividend and still invest in growth. It does have more than $76 billion in cash after all.
That led to this response from my fantastically sardonic Twitter follower Leslie Midnight. "The board opted to keep the cash & serve shareholders organic cider instead."
The opinions expressed in this commentary are solely those of Paul R. La Monica. Other than Time Warner, the parent of CNNMoney, and Abbott Laboratories, La Monica does not own positions in any individual stocks.