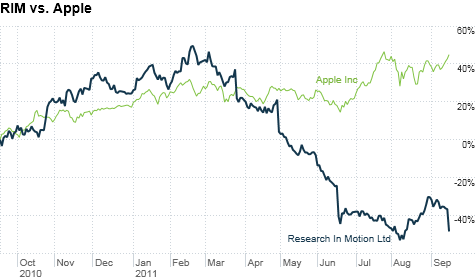 Click the chart to track Resarch in Motion's stock.
NEW YORK (CNNMoney) -- Another disappointing quarter for Research in Motion.
The Blackberry maker announced that it sold fewer units than expected, lowered its profit guidance for the rest of the year and warned about margin squeeze next quarter as it attempts to push its PlayBook tablets via aggressive price promotions.
RIM's (RIMM) stock is down more than 18% in afternoon trading, but way above its opening lows.
RIMM far from its best days: From 2003 to 2008 it went from $5 to $145. Today it is trading 83% below its all-time high.
Meanwhile, Apple (AAPL, Fortune 500) is getting ready to release its iPhone 5. The stock of the tech giant is less than 2% from its all-time high.
Ever since the first version of the iPhone was introduced in June 2007, Apple's shares gained 224%. For the same period, Research in Motion's stock is down 57%, Nokia (NOK) is down 80%.
These are some of the popular themes on StockTwits Friday:
divtastic: Trefis statement: "In each of the last 3 quarters, it has missed its own revenue guidance" $RIMM
SheilaD_TV: BofA on $RIMM "Once again, overpromised and underdelivered. Missing almost all targets this quarter."
techinsidr: $RIMM downgraded 3x this morning and cash is becoming a concern. $RIMM
STtech: Lots of value in $RIMM patents. Sold so hard since it's priced as growth stock, and they are not growing sufficiently
ericjackson: $RIMM's earnings call last night was only 54 minutes. They took 58% of that time with their own prepared remarks to avoid Q&A.
RaviRomo: $AAPL is massively underpriced given the world of hurt it is inflicting on $RIMM $HPQ $NOK in lost market cap. Time for justice in Valuation.