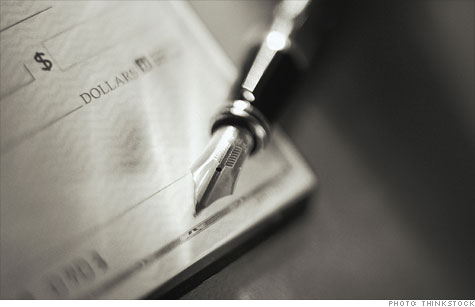 The Consumer Financial Protection Board will look at overdraft fees.
WASHINGTON (CNNMoney) -- A controversial new government agency has its sight set on a consumer bugaboo: checking overdraft fees.
The defacto chief of the Consumer Financial Protection Bureau, Raj Date, said in a speech in Philadelphia last week that the bureau is going to start looking at overdraft programs with an eye toward clarifying the cost of free checking accounts
"With these free checking accounts, much of the costs to the consumer were buried in overdraft fees," said Date, special adviser to the Treasury Secretary on the consumer bureau. "Going forward, the bureau will carefully assess how we can best ensure that the overall market for short-term credit is fair, transparent, and competitive."
Date -- who is administering the consumer bureau as it awaits the confirmation of its first director -- said that one of the consumer bureau's first big decisions could be setting guidelines for banks to make sure consumers know what they're doing when they rack up overdraft fees.
In 2008, the Federal Deposit Insurance Corp. released a report into banking overdraft programs, revealing some little-known practices. The report found that 75% of banks automatically enrolled consumers in overdraft protection, often without their knowledge, and the median overdraft fee had been $27.
The report also unearthed that more than 93% of all overdraft fees came from a pool of consumers who overdrew their checking accounts at least five times or more per year, racking up an average of $215 in fees a year.
The FDIC report, which coincided with a populist backlash against big banks that got bailouts, spurred the Federal Reserve to issue the first rules protecting consumers from being automatically enrolled into overdraft programs. Now bank customers must ask their bank to enroll them in overdraft coverage.
Later, the FDIC and the Office of the Comptroller of the Currency (OCC) issued two completely different sets of so-called "guidance" for banks they regulate. The guidance called on banks to monitor customers who rack up overdraft fees and to make sure those customers knew what they were doing.
The FDIC wanted banks to contact customers who got dinged with penalty fees six times in a rolling 12-month period. The OCC said banks should monitor customers who overdraw their accounts and determine if they had the means to pay; if not, the office said banks should consider ending the overdraft coverage and closing the account.
Banks have said the two sets of marching orders are confusing and could give those banks not regulated by the OCC or FDIC a competitive edge.
That's why the Consumer Financial Protection Bureau decided to step in. Date said that the bureau will review the different sets of marching orders for banks and see which works better for consumers.
"If we find that additional action is needed, we will act," Date said
The consumer bureau, which has been up and running for less than two months, has made progress on simpler mortgage applications.
It has done so without a permanent director. The bureau, created as part of the Dodd-Frank financial reform law, was the brainchild of consumer advocate Elizabeth Warren. But Senate Republicans said earlier this year they would block confirmation of Warren or any other nominee until changes are made in the composition of the bureau.
A hearing was held earlier this month for President Obama's nominee, former Ohio Attorney General Rich Cordray. Republicans made clear they will keep blocking a confirmation vote unless they get changes to the bureau's power and structure.