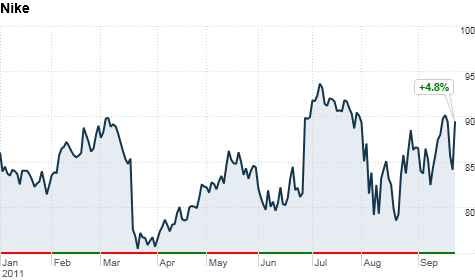 Click on the chart to see a current stock quote for Nike.
NEW YORK (CNNMoney) -- Apparently there is no recession for shoes. Sporting-goods maker Nike (NKE, Fortune 500) and footwear retailer Finish Line (FINL) both reported better-than-expected earnings, and as a result their stocks stood tall in a dismal market environment.
Nike reported first-quarter earnings per share of $1.36, handily exceeding analysts' estimates for $1.21. Shares of the world's biggest sporting-goods manufacturer advanced more than 6% Friday, approaching their all-time high reached in July this year.
Worldwide future orders for the Nike brand increased 16%. Sales rose 35% in emerging markets, which account for a quarter of Nike's business. Revenues from other regions grew, too: 16% in North America and 14% in Western Europe. Gross margins declined by 2.7% due to rising costs for raw materials.
Finish Line shares advanced more than 12% by noon after the footwear retailer reported a 24% increase in earnings for the second quarter.
These are some of the topic gaining interest on StockTwits this Friday:
montoyan: Catching up on last night's $NKE earnings call. Like to hear them calling out strength of the N.American consumer explicitly, several times.
lamonicabuzz: Sneakers! $NKE and $FINL up pre-market on earnings. Fitting since most will want to lace up & run away from this market as fast as you can.
Vinnystocktips: $NKE conference call was great. Nearly 20% growth. Some corps not doing that bad at all in this global recessionary environment.
scott_murray1: Nike not seeing the great recession-sales, earnings, orders up 15-20% $NKE $SPY $AAPL http://stks.co/KcR
vcutrader: western Europe up 14% yoy - rest of Europe up 24% yoy $NKE Sep. 22 at 1:25 PM BrianSozzi Good quarter from $FINL...but traffic to the stores was down...#economy