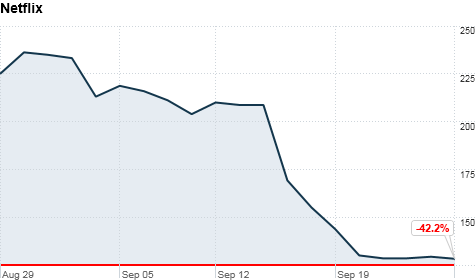 Click the chart to check Netflix's stock.
NEW YORK (CNNMoney) -- It pays to be a content provider these days. This morning, both Netflix and Amazon announced new digital video streaming deals.
The competition in the online video streaming business is fierce. Netflix (NFLX), Google (GOOG, Fortune 500), Apple (AAPL, Fortune 500), Amazon (AMZN, Fortune 500), Wal-Mart (WMT, Fortune 500), Dish (DISH, Fortune 500)/Blockbuster and Hulu are all scrambling to get a share of the business.
Down the road, consumers are expected to be the big winners, but today the biggest beneficiaries are content providers. The latest deal with DreamWorks is estimated to costs Netflix about $30 million per picture.
Netflix, which lost more than 40% of its market cap in the past month alone, is rumored to be an acquisition target for some of the technology sector's juggernauts -- Amazon, Apple, Google.
Amazon might have other plans in the digital video content arena. The biggest e-tailer in the world just signed a deal with Fox (NWSA, Fortune 500) to expand its selection of movies and TV shows offered to Amazon Prime members.
These are some of the popular themes on StockTwits this Monday:
graubart: The Amazon - Netflix - Apple battle for consumer attention (streaming & tablets) will be a big win for users $AMZN$NFLX $AAPL
herbgreenberg: My take on $NFLX dmw deal: content costs rising, subs falling. will this reverse sub slide? crystall ball broken
EricEskin: $AMZN is methodically moving to replace $NFLX
ZorTrades: Like i said last week, i believe funds don't want to show$NFLX in their books..a little window undressing,& then it get interesting next wk
LifeSciencesMkt: $AMZN Amazon inks deal w/FOX to add movies and TV shows to its unlimited instant streaming service later this fall i.e they DON'T want $NFLX
biggercapital: On Wednesday the price of tablets will start moving slowly toward zero. Won't be obvious at first but that is the game plan $AAPL $AMZN