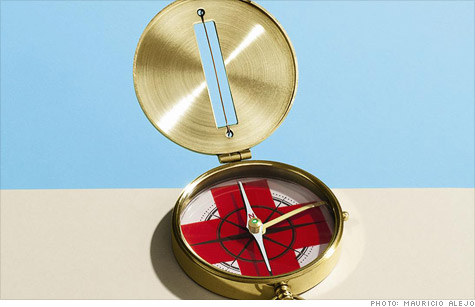 During open enrollment season, navigate to the best health care benefits for the money.
(MONEY Magazine) -- It figures that open-enrollment season -- when you must choose your package of employer-sponsored health insurance and other benefits for 2012 -- happens around Halloween. Because it's going to be a little scary.
Though the offerings may look pretty much the same as last year's, companies are tinkering with the design of their health plans to shift even more of the financial burden to employees, says Tom Billet of benefits consultancy Towers Watson.
Send The Help Desk your questions about open enrollment.
A survey by the firm shows that most employers will not only increase the premiums workers pay by nearly 12% but also shift from flat-fee co-pays to more costly co-insurance (where you pay a percentage -- usually 10% to 25% -- for doctors, drugs, and other care).
At the same time, more companies are offering so-called consumer-directed options that usually have very high deductibles. "Hoping the plan you had last year will still be fine is simply not an option," Billet says.
How to keep costs down? Follow these four steps.
1. Weigh traditional vs. high-deductible options
Two-thirds of large employers will offer at least one consumer-directed (high-deductible) plan for 2012, up from 61% in 2011, according to a Towers Watson survey; 10% will offer it as the only option.
With these plans, you pay lower insurance premiums but more of your own money before coverage kicks in. The minimum deductibles are $1,200 for singles and $2,400 for families; they can rise to $6,000 or more.
Sounds like a bum deal, right?
Not necessarily. True, a high-deductible plan is the wrong choice if someone in your family is managing a chronic illness (and the larger your family, the greater the chance such an illness may strike). But if you're in good health, such a plan "can be less expensive than a traditional one," says John Asencio, health practice leader at Sibson Consulting.
The key is to factor in the value of the health savings accounts (HSAs) that most companies provide with high-deductible plans. With an HSA, your family can save a tax-deductible $6,150 a year ($3,050 for singles) for medical expenses. To get you to sign on, some companies even contribute to employees' accounts.
2. Run the numbers to make your final choice
Let's say you've determined that a traditional plan is best for your family, and you've got a choice not only between a PPO and an HMO but between co-pays and co-insurance -- maybe because a co-pay option is offered by your spouse's employer but only a co-insurance plan by yours.
The co-pay plan is almost always going to be the better deal. For example, someone with a co-pay might shell out $10 per doctor visit vs. $40 or so under co-insurance.
There are so many moving parts to these plans, however, that the only way to be sure of making the best choice is to gather records of your health care spending for the past few years and run the numbers for each option.
Check to see if your employer or insurer offers an online tool to help; many do.
Don't forget to factor in drug coverage. Some employees will face four out-of-pocket pricing tiers this year (up from three in 2010): little or nothing for the cheapest generics; more for an increasing number of higher-cost generics; still more for brand names; and the most -- in some cases full freight -- for specialty drugs for rare ailments. (You can often cut your outlays significantly by using a drugs-by-mail service.)
3. Max out your FSA
The Internal Revenue Service will cut the maximum allowed in a flexible spending account (where you can put pretax dollars for medical expenses) from $5,000 in 2012 to $2,500 in 2013. Meanwhile, fewer expenses qualify. For example, as of 2011, over-the-counter meds are no longer reimbursable without a doctor's prescription.
So make the maximum contribution for next year -- and schedule costly FSA-covered procedures, such as Lasik surgery or orthodontia, for 2012 rather than 2013.
4. Grab more cost cutters
More than a quarter of big companies surveyed by benefits consultant Mercer are offering incentives such as cash or lower premiums to employees who participate in wellness programs.
Similar incentives are often available for people with chronic illnesses who sign up for medical management programs. "Be sure to take advantage of them," says Tracy Watts, a partner at Mercer.
You could save up to $400 this year -- and much more in lower health care costs down the road.