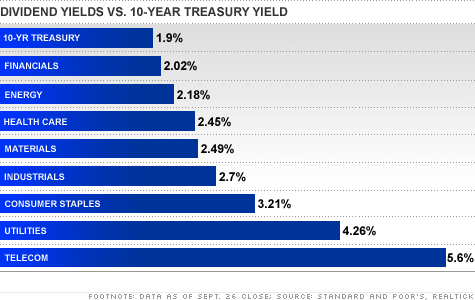 Click chart for more yields and bonds data.
NEW YORK (CNNMoney) -- With interest rates at record lows, is it too much to ask for inflation-beating yields and returns? Not if you can stand to part with U.S. Treasuries.
The recent twists and turns of the stock market, driven by serious doubts about Greece's solvency, have pushed investors toward the "safety" of U.S. government debt.
That flight to quality has forced the 10-year Treasury yield below 2%, recently falling as low as 1.67% -- not even on par with inflation.
"Anyone who is relying on Treasuries and high-quality fixed bonds to generate income to meet their spending needs is essentially locking in a lower standard of living," said Jack Ablin, chief investment officer at Harris Private Bank.
He noted that while the 10-year Treasury currently yields 1.9%, the government's latest inflation reading shows that the so-called core consumer price index rose at an annualized rate of 2% over the past 12 months.
In a normal environment, the benchmark Treasury yield typically sits a few percentage points above the core inflation rate.
Rather than rely on the government's debt for steady investment income, Ablin's firm has turned to Corporate America.
"Our view is that companies are very well positioned to ride out the next few years in this kind of economy," said Ablin, noting that the present challenges aren't the same as they were in 2008, when corporations were loaded with debt and banks had to be bailed out.
Now, companies are enjoying deep pockets, and are rewarding shareholders with solid dividends.
The average yield for an S&P 500 company that pays a dividend is 2.32%, according to S&P Indices, with dividends from 8 out of 10 sectors (see the chart above) shelling out higher yields than the benchmark 10-year Treasury note.
In fact, dividends have grown 5%, on average, each year since the 1950s, said Sudhir Nanda, head of equity quantitative research at T. Rowe Price.
Nanda, who also manages the T. Rowe Price Diversified Small-Cap Growth Fund (PRDSX), likes dividends of health care companies like Pfizer (PFE, Fortune 500) and Merck (MRK, Fortune 500), which both yield almost 5%.
He also likes names like AT&T (T, Fortune 500), ConAgra Foods (CAG, Fortune 500) and Philip Morris (PM, Fortune 500), which consistently hike their dividend payouts.
For a batch of dividend-paying stocks, Harris Private Bank's Ablin recommends the PowerShares High Yield Equity Dividend Achievers Portfolio (PEY), whose top holdings include AT&T as well as CenturyLink (CTL, Fortune 500) and Pitney Bowes (PBI, Fortune 500).
In addition to corporate dividends, Ablin said that high-yield corporate debt, or junk bonds, is also more attractive than U.S. government debt.
On average, junk bond yields are six to eight percentage points higher than Treasury yields, he noted.
"High-yield bonds have suffered recently because of the out-performance of Treasuries," he said. "Investors all moved into the same side of the canoe at once, so that's created some opportunities in high-yield corporate bonds."