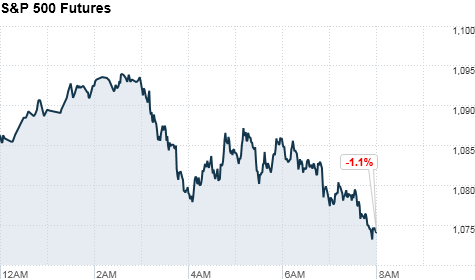 Click on the chart to see additional premarket data.
NEW YORK (CNNMoney) -- U.S. stocks were poised to tumble lower Tuesday, as investors continue to fret about Greece's ability to meet its debt obligations, and ahead of Federal Reserve Chairman Ben Bernanke's testimony on the outlook for the economy.
Dow Jones industrial average (INDU), S&P 500 (SPX) and Nasdaq (COMP) futures were all about 1% lower ahead of the opening bell. Stock futures indicate the possible direction of the markets when they open at 9:30 a.m. ET.
"The bottom line is the European Union and its debt problems" remain the focus, said Peter Cardillo, chief market economist at Rockwell Global Capital. "That contagion fear needs to diminish, and until then, we have a very nervous and unstable market."
On Monday, stocks kicked off the fourth quarter with a huge sell-off, as worries about Greece's solvency remained in the spotlight.
Greece has slashed spending, reduced wages and raised taxes in an attempt to bring its debt under control. But the debt-ridden nation will miss key deficit targets for this year and next, according to the draft budget announced by the Greek cabinet.
Europe's debt problems and health of the global economy have weighed on investors. The third quarter ended on a sour note -- the Dow lost 12% in the quarter, marking its worst quarterly performance since the first quarter of 2009.
"Right now we can't escape that fear factor," said Cardillo.
Economy: Fed chairman Ben Bernanke will be discussing the outlook for the economy in front of the Joint Economic Committee of Congress at 10 a.m. ET.
"Every word is going to be scrutinized," said Cardillo. "I don't think there is anything he can say other than repeat what he has been saying: expect slow growth and there is a lot of risk to the economy due to the sovereign debt problem."
Companies: On Tuesday afternoon, Apple (AAPL, Fortune 500) is holding an event where it is widely expected to unveil the iPhone 5.
Shares of UBS (UBS) were up 2.6% in premarket trade after the Swiss bank said it expects to post a "modest" profit for the third quarter despite a rogue trading incident that cost the bank $2.3 billion.
Shares of American Airlines parent company AMR (AMR, Fortune 500) bounced back 10% in premarket trade Tuesday after plunging 32% Monday on numerous reports that the company was facing a threat of bankruptcy. AMR is one of the few major U.S. airlines that did not go through bankruptcy in the last decade, but it is forecast to report its fourth straight year of losses in 2011.
Meanwhile, shares of United Continental (UAL, Fortune 500) -- which were hit hard Monday -- were up 1.8% in premarket trade.
Shares of Yahoo (YHOO, Fortune 500) were up almost 3% in premarket trade the day after the struggling online media company and ABC News announced they are teaming up to share news content, reporting resources and original videos.

YUM! (YUM, Fortune 500) Brands, the owner of KFC, Pizza Hut and Taco Bell, will report earnings after the closing bell.
World markets: European stocks tumbled in afternoon trading. Britain's FTSE 100 (UKX) lost 3.3%, the DAX (DAX) in Germany plunged 4% and France's CAC 40 (CAC40) shed 3%.
In Europe, bank shares were among the hardest hit amid speculation that the Franco-Belgian bank Dexia Group could be broken up. Meanwhile, shares of U.S. financial firms have also taken a beating. Bank of America (BAC, Fortune 500) stock was down 1.5% in premarket trade, JPMorgan (JPM, Fortune 500) was down 1.2%, and shares of Citigroup (C, Fortune 500) were down 2%.
Asian markets ended lower. The Hang Seng (HSI) in Hong Kong sank 3.4% and Japan's Nikkei (N225) shaved 1.1%. The Shanghai (SHCOMP) stock market is closed this week for a holiday.
Currencies and commodities: The dollar was little changed against the euro and Japanese yen, but gained slightly against the British pound.
Oil for November delivery slipped $2.28 to $75.33 a barrel.
Gold futures for December delivery shaved $6.60 to $1,651.10 an ounce.
Bonds: The price on the benchmark 10-year U.S. Treasury was up slightly, pushing the yield down to 1.74%.