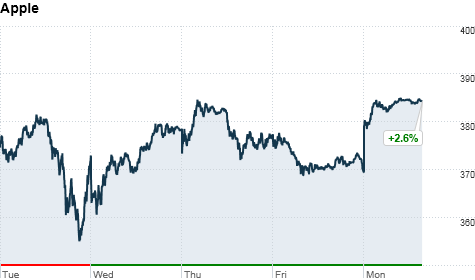 Click the chart to track shares of Apple.
NEW YORK (CNNMoney) -- The tech media might be disappointed by the new iPhone 4S features, but apparently current and future customers can't wait to snap up Apple's latest smartphone.
The tech giant announced that pre-orders for the iPhone 4S topped 1 million units in the first 24 hours it was available. Apple (AAPL, Fortune 500) added 4% to its market cap.
Shares of Verizon (VZ, Fortune 500) also advanced slightly on the news.
Not every iPhone carrier benefited from the strong iPhone 4S launch. Shares of Sprint (S, Fortune 500) slid more than 8% to an all-time low on cash worries. The mobile carrier's management noted last week that it will need to raise capital in the future without specifying how much and when. Investors are not very fond of elevated uncertainty, especially when it comes from management.
In other tech news, Netflix (NFLX) announced that it will not proceed with the planned split-off of its mail-in DVD business, Qwikster. Its stock leaped 8% in early-morning trading, but the gains quickly faded as the recent drastic changes from the online video provider have made investors concerned about its leadership.
These are some of the popular themes on StockTwits Monday:
nickfenton: iPhone 4S expected to have 70% manufacturing margins! $AAPL
AronPinson: Makes sense that $T would get a lot / most of the initial $AAPL 4S orders. Most iPhone users of theirs are up for renewal. $VZ $S
EddyElfenbein: Sprint/Nextel was at $75 12 years ago. Friday's close = $2.41. That's gotta hurt. $S
douglas_blake: $S I can't overstate the idiocy of saying you need to raise cash "at some point". The market is saying, "Cool, we'll short you until then." $$
Lightman: $NFLX Keys for me continue to be significant operating costs, sustainability of business model and availability of first rate content.
daytradingshrink: It's good to see a 180 by $NFLX on a bad decision but its making the company look schizo. Investors hate uncertainty Mr.CEO.