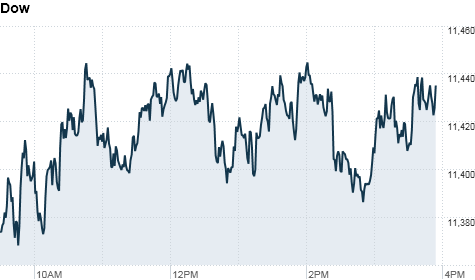 Click the chart for more data.
NEW YORK (CNNMoney) -- U.S. stocks ended mixed Tuesday, with a technology sector rally bucking a broader decline, as investors await the next step after Slovakia voted against overhauling the European bailout fund.
The Dow Jones industrial average (INDU) fell 17 points, or 0.1%, to end at 11,416. The S&P 500 (SPX) ended little changed at 1,195. The Nasdaq composite (COMP) gained 17 points, or 0.6%, to 2,583.
The choppy trading came a day after stocks rallied sharply, as investors cheered a pledge from European leaders to unveil a plan for solving the eurozone's debt crisis by the end of the month.
Stocks have advanced on four of the last five trading days, amid cautious optimism that a state-sponsored rescue of European banks is in the works.
The gains reflect a concerted effort by Germany and France to say 'we've got this one, we're going to get this figured out,'" said Art Hogan, managing director at Lazard Capital Markets.
But the tone remains cautious. All day, investors were eagerly awaiting the outcome of the deeply divided Slovakian parliament's vote to overhaul the European Financial Stability Fund (EFSF) -- essentially a bailout fund for the region's most troubled nations. Shortly after U.S. markets closed Slovakia voted the measure down.
The reforms needed to be ratified by all 17 eurozone nations, and Slovakia was the last country to vote.
"Any delay in plans to stabilize the euro zone and further enhance governments' ability to bailout banks and countries in need is certainly not comforting for the markets," said Kate Warne, chief investment strategist with Edward Jones.
In another reminder of Europe's debt problems, Standard & Poor's cut the credit ratings or lowered the outlook on 15 Spanish banks.
Meanwhile, international monitors in Greece completed a review of the nation's finances, suggesting the latest installment of bailout money could be disbursed in early November.
In the United States, the Federal Deposit Insurance Corp. released a draft of the Volcker Rule, which intends to take risky bets out of the financial system in hopes of preventing another crisis. The rule aims to rein in how banks use their own accounts to chase profits -- so-called proprietary trading.
Companies: Alcoa (AA, Fortune 500) reported quarterly income that fell short of analysts' expectations, but the company brought in more revenue than anticipated.
The aluminum producer is the first blue-chip company to report results in the quarterly event known as earning season.
Peter Boockvar, chief market strategist with Miller Taback & Co., said he expects "a mixed bag" of profits and losses in the quarter.
"There will definitely be some disappointments," he said, adding that other companies will continue to report earnings and sales growth.
Overall, S&P 500 company earnings are expected to have climbed almost 13% in the third quarter of 2011, according to earnings tracker Thomson Reuters. Revenue of the companies in the benchmark index are expected to have risen 10%.
Shares of Dollar Thrifty (DTG) fell 1.8% after the rental car company said it plans to remain an independent company after seeking a buyer for over a year. Avis dropped out of the running last month, and Hertz (HTZ, Fortune 500) didn't raise its offer.
Currencies and commodities: The dollar rose against the euro, the British pound and the Japanese yen.
Oil for November delivery gained 48 cents to $85.89 a barrel.
Gold futures for December delivery edged up 20 cents to $1,671 an ounce.
Bonds: The price on the benchmark 10-year U.S. Treasury fell, pushing the yield up to 2.16% from 2.07% late Friday.

The bond market was closed Monday for Columbus Day.
World markets: European stocks closed mixed. Britain's FTSE 100 (UKX) was flat and France's CAC 40 (CAC40) shed 0.2%, while the DAX (DAX) in Germany added 0.3%.
Asian markets ended higher. The Shanghai Composite (SHCOMP) rose 0.2%, the Hang Seng (HSI) in Hong Kong jumped 2.4%, and Japan's Nikkei (N225) gained 2%.
Markets were reacting to Monday's news that China's sovereign wealth fund's investment arm purchased shares of four state-owned banks: Agricultural Bank of China, Industrial & Commercial Bank of China, Bank of China and China Construction Bank.