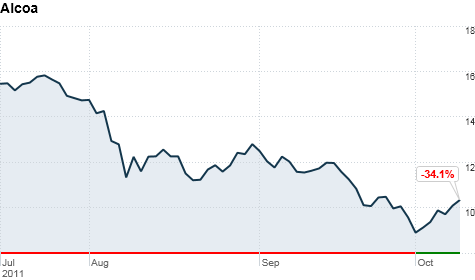 Click chart for more on Alcoa
NEW YORK (CNNMoney) -- The official earnings season kicks off this afternoon with Alcoa (AA, Fortune 500).
The aluminum giant has lost one-third of its market capitalization since its last earnings report. Many other basic material stocks have been brutally sold off lately on anticipation for emerging market' slowdown.
PepsiCo (PEP, Fortune 500) releases earnings on Wednesday and its performance will be a good barometer of the state of the global consumer and the impact of the recent dollar strength on corporate earnings.
Close to half of the S&P 500 (SPX) earnings are derived internationally and drastic currency fluctuations could have a substantial impact on the bottom line of many companies.
All eyes will be looking at JPMorgan Chase (JPM, Fortune 500) on Thursday as it is the first major bank to report. There have been rumors that U.S. banks are close to a mortgage settlement that will help to lift some of the uncertainty dragging down the sector. Financials are the worst performing sector year to date.
Google (GOOG, Fortune 500) also reports Thursday and could offer a glimpse into several industries -- Internet search, social media, mobile, cloud.
Overall, the expectations of most investors are low; sentiment is negative, which historically has been a good environment for a plethora of earnings surprises.
These are some the themes attracting attention on StockTwits, Tuesday:
lamonicabuzz: The other E word. Not Europe. Earnings. In case you forgot, the third quarter testimonial period kicks off later with $AA after the bell.
NCFinanceGuy: All eyes on $AA, although methinks they are less of an indicator as they once were....we'll see. Good trading to all!
douglas_blake: Talk about a news vacuum! The fate of the free world rests in the hands of Slovakia. $AA tonight should change things!
KeithMcCullough: Watch the Financials very closely - Steiner previewed earnings season this morn; he remains The 2011 Bear$XLF
Ktr8der: Good Morning. Quarterly Reports this week. $AA 4pm, $PEP10/12, $JPM & $GOOG 12/13. Next week: $IBM $AAPL $EMC$PCP $PH $CMG $APD ...more.
RLampkin: The only sectors showing earnings growth estimate increases in Q3 are consumer discretionary and technology (Reuters via DJ)
ivanhoff: The expectations are so low currently, that there might be some huge upside surprises during the approaching earnings season