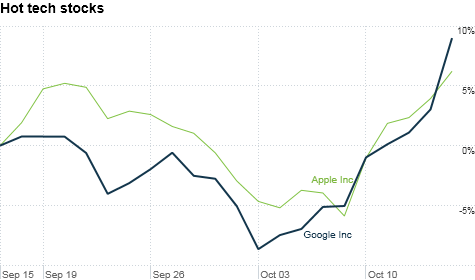 Click chart for more market data.
NEW YORK (CNNMoney) -- Google extended its weekly gains to almost 15% after reporting another impressive quarter.
The Internet juggernaut again beat the estimates by a wide margin. Google recorded a 34% surge in revenue and 27% increase in earnings year-over-year, disproving the effects of the law of big numbers and the popular opinion that its growth stage is long gone.
Google (GOOG, Fortune 500) is not the only hot tech stock this week. The stronger-than-initially expected iPhone 4S sales are boosting a handful stocks.
Apple (AAPL, Fortune 500) is the obvious, direct play, but many investors are focusing on the stocks of companies that supply parts for the latest iPhone.
For example, Nuance (NUAN) provides the speech-recognition software, and its stock is up 25% for the past month.
Other major parts suppliers include Samsung, Broadcom (BRCM, Fortune 500), Avago Technologies (AVGO) and TriQuint (TQNT).
These are some of the popular themes on StockTwits this Friday
lamonicabuzz: Google's "other" revenues (not advertising) 4% of total sales. Up from 3.5% a year ago. $GOOG still one-trick pony. But pony is Secretariat.
JoshPritchard: $GOOG ends the quarter with north of $42B in cash; after Q4, they should be ~$45B. SO, after digesting $MMI, they'll still have ~$100/share
ldrogen: $GOOG is adding through subtraction by shutting down non focus products, so smart, consolidate and focus
StockSage1: "Your experience on a phone could actually become better than your experience on a computer, the phone knows where you are...." Page $GOOG
TysonBrowning: The "what parts are in $AAPL devices game" never gets old. See $AVGO $TQNT $SWKS $QCOM http://t.co/9usBJx8B
vader7x: $ARMH $BRCM $QCOM $SKWS $AVGO $TQNT $SNE $GLW $NUAN $CRUS $FLEX $TXN $AAPL http://t.co/4K9hPVQS: iPhone4s winners