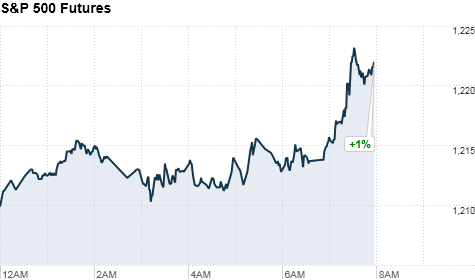 Click on chart for more premarket data.
NEW YORK (CNNMoney) -- U.S. stocks were poised to open higher Friday, as investors shook off nervousness about Europe's debt crisis heading into the weekend.
The Dow Jones industrial average (INDU), S&P 500 (SPX) and Nasdaq (COMP) futures were all higher by about 1%, pulling out of their lackluster slump from earlier in the morning. Stock futures indicate the possible direction of the markets when they open at 9:30 a.m. ET.
U.S. stocks ended mixed Thursday, as European leaders confirmed that they will meet multiple times over the next week to approve a key plan to resolve Europe's debt crisis.

In a joint statement, French president Nicolas Sarkozy and German chancellor Angela Merkel said that the elements of a comprehensive response to Europe's debt crisis will be discussed in depth at Sunday's European Council summit, and a plan will be adopted by next Wednesday at the latest.
Originally, investors were expecting a plan to be hashed out by Sunday.
"Europe is still the main concern. Earlier this month, we had these two big fears about recession in the U.S. and worries about Europe," Scott Brown, Raymond James Chief Economist. "The worries about recession are starting to recede a bit, and in Europe, we're expecting to get some definitive answer in the next week."
Still, with little news expected out of Europe Friday, investors were focusing on the latest corporate earnings reports.
Companies: General Electric (GE, Fortune 500) announced it earned 31 cents per share in the third quarter, up two cents from a year earlier and in line with expectations. Shares of GE slid 1%.
Before the bell, Verizon (VZ, Fortune 500) reported a third-quarter profit and revenue that was roughly in line with forecasts. Shares fell 1% in premarket trading.
McDonald's (MCD, Fortune 500) earnings beat expectations, driven by higher sales of new menu items as well as traditional staples. The stock price rose more than 2% in premarket trading.

After the closing bell Thursday, Microsoft (MSFT, Fortune 500) reported fiscal first-quarter earnings and sales in line with analyst expectations. Microsoft's revenue rose to a record $17.4 billion, up 7% from last year. Shares slipped slightly in premarket trading.
Economy: Investors will be listening to speeches from three voting members of the Federal Reserve's policymaking committee for hints about whether the central bank is considering another asset-buying program to boost the economy.
Ben Bernanke's No. 2, Vice Chairman Janet Yellen, will give a speech on "The Outlook for the U.S. Economy and Economic Policy," at 3 p.m. ET in Denver.
Meanwhile, Minneapolis Fed President Narayana Kocherlakota will be speaking at 1 p.m. ET, and Dallas Fed President Richard Fisher speaks at 1:20 ET. Kocherlakota and Fisher recently dissented from moves to spur economic growth, fearing the impact on prices.
In a speech Thursday evening, Fed Governor Daniel Tarullo called upon the Fed to start buying more mortgage-backed securities.
World markets: European stocks were slightly higher in midday trading. Britain's FTSE 100 (UKX) rose 1.4%, the DAX (DAX) in Germany added 2.5% and France's CAC 40 (CAC40) edged up 1.7%.
Asian markets ended mixed. The Shanghai Composite (SHCOMP) slid 0.6%, the Hang Seng (HSI) in Hong Kong ticked up 0.2% and Japan's Nikkei (N225) was flat.
Currencies and commodities: The dollar fell against the euro, the Japanese yen and the British pound.
Oil for December delivery gained $1.27 to $87.34 a barrel.
Gold futures for December delivery added $27.80 to $1,640.70 an ounce.
Bonds: The price on the benchmark 10-year U.S. Treasury was flat, keeping the yield at 2.18%.