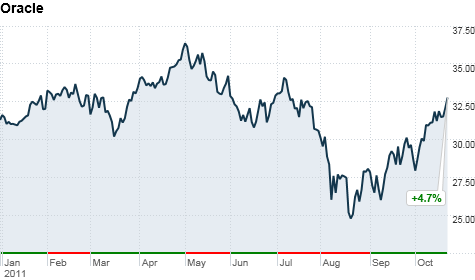 Click chart for more on Oracle
NEW YORK (CNNMoney) -- M&A Monday is back in full force with several deals announced before the opening bell.
With corporate cash at record levels and interest rates near extreme lows, companies are looking for ways to boost sales and maintain competitive advantage.
On Monday morning, Oracle (ORCL, Fortune 500) said it would buy RightNow (RNOW) for $43 a share, a 20% premium over RightNow's closing price on Friday. The customer-assistance software provider is Oracle's biggest purchase since it acquired Sun Microsystems last year.
Another acquisition occurred in the managed care industry, where Cigna Corp. (CI, Fortune 500) paid a 37% premium for HealthSpring Inc. (HS) Medical insurance companies are facing lower margins due to the new healthcare reform law, and acquiring smaller players has become a popular source for growing revenues.
Meanwhile, Google (GOOG, Fortune 500) is rumored to join the bidding war for Yahoo (YHOO, Fortune 500). Other companies that are interested in the online media giant include Microsoft (MSFT, Fortune 500), which could partner with Silver Lake Partners and the Canada Pension Plan Investment Board; and Alibaba, the world's largest business-to-business online trading platform.
These are some of the popular themes on the StockTwits stream this Monday:
Benzinga: Merger Monday in effect with $RNOW $ORCL $CI $HS. Good sign to see for increased confidence.
howardlindzon: Not to late to own $LPSN the lone big player in the customer assistance space with $RNOW (long both)
JohnEarlBurnett: Oracle buys RightNow in big cloud move Analysts see $1.5 billion deal as threat to $CRM http://t.co/sxa0HCn2 $$ $ORCL $AAPL $GOOG #CloudTech
OptionRadar: Health Spring ($HS) some sketchy trades recently in options ahead of this 33% Premium Takeover. Buyer of 2,000 Nov $40 calls http://t.co/4TjaQnbC
EmergingMoney: Will Alibaba end up owning Yahoo instead? Emerging child may become corporate parent. $YHOO $ALBCF http://t.co/MEqrdvfv
mohannadaama: $GOOG playing a role in a $YHOO takeout sounds like a game theory ploy by the math geeks in Mountain View.