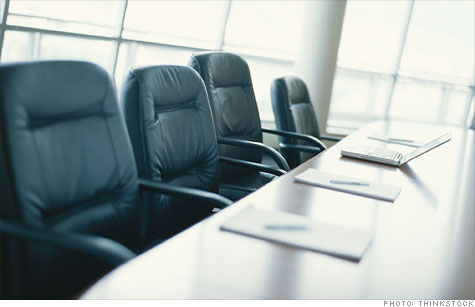 Fortune 500 boardmembers hiked their pay by six percent in 2010.
NEW YORK (CNNMoney) -- One of the sweeter gigs in the corporate world got a little sweeter last year.
Directors of Fortune 500 companies gave themselves a six percent raise in 2010 according to a survey released by consulting firm Towers Watson on Wednesday.
The median pay for outside directors' part-time services rose to $212,512. On average, 54% of directors' pay came in the form of stock and 46% was in cash. The equity portion of directors' take-home ticked up 9% to a median of $114,728, while the cash portion rose 5% to $89,000.
And they could earn an extra five to ten percent in 2011, an analyst with the firm estimated.
Nonexecutive chairmen -- that is, chairmen who aren't also the CEO of the company they chair -- were the best-compensated in the boardroom, the survey found, taking home a median of $150,000 more than fellow board members.
"Similar to executive pay trends, boardmemeber pay levels increased in 2010, consistent with improved financial and stock performance," said Doug Friske, global head of executive compensation consulting at Towers Watson.
Board members' responsibilities vary greatly depending on committee assignments, but they usually deal with crises, succession planning, and generally overseeing a company on shareholders' behalf.
A recent study by the National Association of Corporate Directors found that directors work an average of 227.5 hours a year per board, which comes out to about 4.4 hours a week. But Friske said it's "hard to measure just on a weekly basis the impact that these individuals have," he said.
Board members are often retired executives, though they may also have full-time jobs at other companies or part-time jobs on other boards.
Kevin Hallock, the director of Cornell University's Institute of Compensation Studies, said he was "not particularly surprised" by directors' pay packages given increasing demands put on them recently, including greater liability concerns and demands on time.
"What's strange about director pay is it's basically set by the directors themselves," he added.