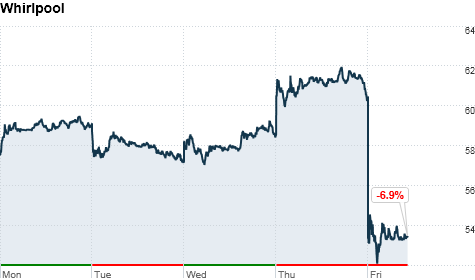 Click chart for more on Whirlpool.
NEW YORK (CNNMoney) -- While S&P 500 companies are on pace to reach record earnings, with more than 70% reporting above the consensus estimates, not everything is rosy.
At least not according to at least one major consumer appliances manufacturer -- Whirlpool (WHR, Fortune 500).
Whirlpool's shares plunged 12% this morning after the company announced job cuts, a plant closure and slashed its earnings outlook.
Another stock that is getting shredded today is Coinstar (CSTR). The owners of the DVD and BlueRay disk rental kiosks Redbox beat the earnings estimates for Q3, but revenues fell short of expectations.
Coinstar also guided earnings and sales below the consensus for next quarter and announced a 20% in increase for DVD rentals.
Meanwhile, Las Vegas Sands's latest results proved that the casino business is alive and well, not only in Asia, but also here in the U.S. LVS (LVS, Fortune 500) reported a 26% increase in revenue, 43% growth in earnings and higher margins.
These are some of the popular themes on StockTwits this Friday:
Retail_Guru: US appliance sales back to 1998 levels, down 25% from peak; Europe down 15% from peak $WHR $BBY
AronPinson: Dear $WHR, it doesn't look good when you're the only co to slash 10% of workforce & cut earnings estimates by 20%... & blame it on economy.
ivanhoff: I don't think 20% raise in price ($1 to $1.20) will matter for $CSTR users. Good for the bottom line. LT positive. (No Position)
lamonicabuzz: Should Redbox change name to Qwikster? $CSTR DVD biz raising prices. Like $NFLX. Investors not happy. Also like $NFLX. Down 10% pre-market.
fundmyfund: $$ No real slowdown in Asia/China really showing in $LVS results. Even Las Vegas was decent http://stks.co/q4U
maddogm86: $LVS no reason it should be under 50, still has another casino opening in 5 months to boost revs, and Las Vegas operations making money