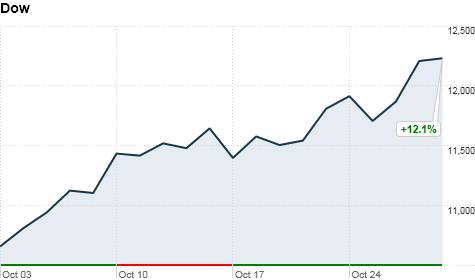 Click the chart for more stock market data.
NEW YORK (CNNMoney) -- Stocks are poised to end October with one the best monthly performances on record, but the market's wave of uncertainty is far from over.
Investors are relieved that European officials finally agreed on a plan of action aimed at tackling Europe's debt crisis last week. But they aren't yet convinced that the measures go far enough, as details about the plan and how it will be implemented remain unsettled.
"We have to keep our eyes and ears open for more risks in Europe," said Tom Schrader, managing director at Stifel Nicolaus. "There's a plan to bail out Greece, but there are still major issues in Italy and Spain, which are much bigger."
The spotlight will remain on Europe next week, as leaders of the G-20 nations gather in Cannes, with Europe's debt crisis dominating their agenda.
And with increasing signs of a recession in Europe, investors will also be tuning in Thursday to the European Central Bank's rate decision. It will be Mario Draghi's first news conference as he takes the reins from outgoing ECB president Jean-Claude Trichet.
The U.S. central bank will also be in focus. The Federal Reserve concludes its two-day meeting on Wednesday. While interest rates are widely expected to hold steady, investors will be keen to hear Chairman Ben Bernanke's assessment of the economy amid on-and-off fears of another recession.
In June, the Fed cut its growth forecast, estimating that the nation's gross domestic product will rise between 2.7% to 2.9% in 2011. According to the latest government reading, U.S. GDP picked up 2.5% during the third quarter, up from the disappointing 1.3% growth in the second quarter and the anemic 0.4% pace in the first three months of the year.
Investors will also be listening for any hints the Fed chief may make about a third round of bond buying, or QE3, to help stimulate the economy.
As long as the Fed maintains its outlook for slow, but still positive, economic growth, further intervention from the Fed is likely off the table, said Thomas Nyheim, portfolio manager at Christiana Bank & Trust Company.
The biggest beast facing the economy is still the nation's sluggish job market. The unemployment has been stuck above 9% since May 2009, and it's not expected to drop off anytime soon.
In the highly anticipated jobs report due Friday, analysts expect unemployment held steady at 9.1% in October, as the economy added 88,000 jobs.
"If the job report comes in below expectations, it would cast another pall over markets," said Stifel Nicolaus' Schrader. "A worsening job markets would create more uncertainty about whether we're going to have another recession."
Investors will also continue to monitor the health of corporate America during the final big week for third-quarter results. Over 100 S&P 500 companies are expected to open their books, including media leaders News Corp. (NWSA, Fortune 500) and Time Warner (TWX, Fortune 500), the parent company of CNNMoney, as well as Starbucks (SBUX, Fortune 500), Mastercard (MA, Fortune 500) and Pfizer (PFE, Fortune 500).