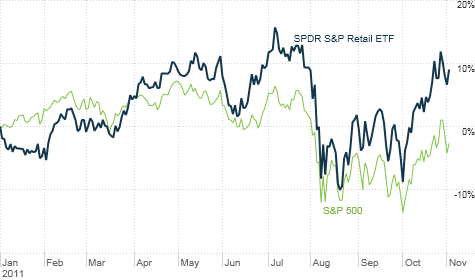 Shop until you drop? Retail stocks have outperformed the market this year even though investors are nervous about the economy. Can it last?
NEW YORK (CNNMoney) -- With all the worries about Europe being on the brink of financial disaster again and increased nervousness about the U.S. economy, you'd think consumers would be cowering in a closet in fear and stuffing their money in the mattress.
They're not. And the strong performance of retail stocks clearly shows that. Occupy Wall Street? It seems like most of the 99% is occupying the local department store, mall and supermarket instead.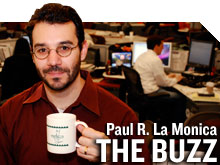 The SPDR S&P Retail (XRT) exchange traded fund is up nearly 10% this year, while the S&P 500 is down 1.5%.
This ETF includes a wide array of retailers that are doing well, ranging from bargain stores like Family Dollar (FDO, Fortune 500) (up 18%) on the low end to Tiffany (TIF) (up 26%) on the luxury side.
And companies in between, like Macy's (M, Fortune 500) and Dillard's (DDS, Fortune 500), are thriving too. Macy's is up more than 20% this year while shares of Dillard's have surged nearly 40%.
"The fact that consumer discretionary stocks are up despite worries about the job market is encouraging," said Ryan Detrick, chief technical strategist with Schaeffer's Investment Research in Cincinnati.
Heck, Macy's is hoping that sales for the upcoming holidays will be so robust that it is joining the likes of Wal-Mart (WMT, Fortune 500) and Target (TGT, Fortune 500) and will be opening stores at midnight on Thanksgiving for eager Black Friday shoppers.
Companies that make food, beverages, toiletries and other household necessities, are doing well too. The Consumer Staples Select Sector SPDR (XLP) ETF is up nearly 5% this year.
What gives? Is this really a cause for celebration or a reason to be worried? It's a little of both. The good news about the retail renaissance is that it may mean much of the doom and gloom forecasts for the economy are wrong.
Yes, this is not a "good" economy. But it's not so awful that people are afraid to spend.
If demand continues to pick up over the next few months, companies that have been citing fickle demand for their products and services may actually need to start hiring more. Imagine that.
"The strength in consumer spending is not a fluke or one-off," said Quincy Krosby, a market strategist with Prudential Financial in Newark, N.J.
However, it may be too soon to definitively say this. It may be a classic case of the usual second half of the year lift that starts with the back-to-school rush and culminates with Christmas.
In addition, consumers appear to be tapping into their piggy banks to finance their shopping sprees. Personal spending shot up by 0.6% in September. But the savings rate fell to 3.6%-- the lowest level since December 2007.
Need I remind you that month was the official start of the Great Recession? Consumers soon went into survival mode and ushered in a new (albeit) brief era of thrift and frugality.
If consumers want to keep spending, they will either use plastic or they will need to start making more money. There are signs of the former, but not the latter.
Equifax (EFX), which publishes monthly reports on credit trends, said Wednesday that total consumer debt was $11.2 trillion last month. That's back to pre-recession levels from 2006.
What's more, Equifax said that $436 billion of total new credit was extended to consumers in the first seven months of 2011. That's the highest amount in three years. So much for learning the painful lessons about being addicted to leverage.
Now let's turn to wages. Personal income rose just 0.1% in September. And salaries are unlikely to pick up in a meaningful way until companies begin to really hire.
You see the problem here? Consumers may soon be at a point where they will no longer be able to spend at a strong enough pace to give companies a reason to add new workers --- which is what is needed to keep consumers spending at decent clip.
With that in mind, consumers may have to keep spending -- within reason -- to keep the economy humming along.
"The dip in the savings rate is a positive for the short-term," said Chris Probyn, chief economist at State Street Global Advisors in Boston. "When you are trying to put America back to work, you want to see people spending so companies can increase production again and add jobs."
Still, something's gotta give eventually. Krosby said she's bullish on retail stocks for the next few months. But it may only take a couple of major layoff announcements from large companies to spook consumers again. They can't continue to pillage their savings and put things on Visa (V, Fortune 500) and MasterCard (MA, Fortune 500) forever.
"The market may be applauding consumer spending now. But economists will warn that consumers can't keep doing this indefinitely," she said. "It's all predicated on jobs."
The opinions expressed in this commentary are solely those of Paul R. La Monica. Other than Time Warner, the parent of CNNMoney, and Abbott Laboratories, La Monica does not own positions in any individual stocks.