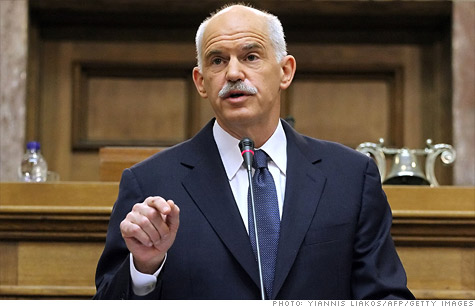 Greek Prime Minister George Papandreou called for a confidence vote and referendum on last week's EU deal that would slash Greece's debt by nearly one-third.
CANNES, France (CNNMoney) -- Greece was the main topic of conversation here Wednesday after a surprise move by Prime Minister George Papandreou that called into question the latest effort to resolve Europe's debt crisis.
The Group of 20 Summit in Cannes, which officially starts Thursday, was billed as an opportunity for European leaders to present the details of a comprehensive policy response to the crisis threatening the euro currency and global economy.
But the talks here were thrown into disarray after Papandreou announced plans Tuesday to hold a referendum later this year on a key aspect of the plan.
The move revived fears that Greece could default on its debts in a disorganized way, setting off a string of government defaults that could force a break up of the euro currency union.
The Papandreou government also faces a confidence vote Friday.
European Commission president Jose Barroso made an "urgent appeal" for national and political unity in Greece, highlighting the diplomatic tensions.
"Without the agreement of Greece to the EU/IMF program, the conditions for Greek citizens would become much more painful, in particular for the most vulnerable," he said. "The consequences would be impossible to foresee."
Papandreou has been summoned to Cannes for a hastily-called meeting with French President Nicolas Sarkozy and German Chancellor Angela Merkel.
It was unclear Wednesday what the referendum would entail. But the main concern is that Greek voters could reject anything that requires additional austerity measures.
The Greek government has struggled to enact the painful reforms necessary to balance its budget and pay down debt.
The unpopular measures have sparked protests and riots in Athens and other parts of the country this year.
European Union leaders agreed in October to provide a second €100 billion rescue program for Greece. They also negotiated a deal with private sector investors to write down the value of Greek government bonds by 50%.
The measures are part of a so-called comprehensive plan to contain the debt crisis in Greece, boost bank capital buffers and leverage a government-backed rescue fund.
The threat of a disorderly default by Greece roiled global financial markets Tuesday, but the tone was more optimistic Wednesday as investors await the outcome of meetings being held in Cannes later in the day.
"Financial markets are waiting with bated breath for the next announcement from a European politician," said Andrew Milligan, head of global strategy at Standard Life Investments in Edinburgh. "Tensions are understandably high."