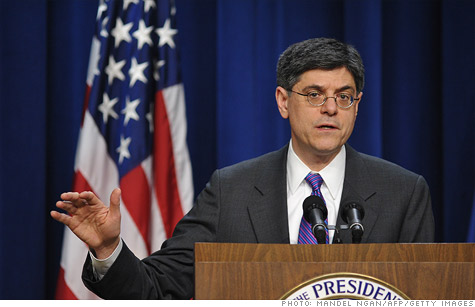 Budget chief Jack Lew says he's optimistic Congress will say no to federal shutdowns.
WASHINGTON (CNNMoney) -- White House budget director Jacob Lew said Thursday he's optimistic that Congress will avoid any more threats of federal shutdowns later this month over a 2012 budget.
"After living through April and July, any reasonable person would have to say there's risk" of a shutdown crisis, said Lew, director of the White House Office of Management and Budget in a forum sponsored by Politico. "(But) I generally don't believe that Congress wants to be in that kind of a showdown. I'm optimistic they'll work through these issues and make the right choice."
Congress came the closest to shutting down federal government due to political gridlock over passing a stop-gap budget measure in April, and then again in August over a measure to give the government more room to borrow to keep paying bills.
Lew said those episodes taught Congress that Americans want both parties to work together.
"The American people have told Congress it's unacceptable," Lew said.
But he tempered his predictions with a warning to Republicans against using the budget to debate "ideology." Lew said that the White House opposes any effort to use the budget bill to debate repeals of current laws such as financial or health care reform.
He pointed to a letter he sent lawmakers in October that said if the president gets a bill that "undermines critical domestic priorities or national security," he will veto the bill.
"We don't take those words lightly," Lew said.
The federal government is running on a stop-gap budget that expires Nov. 18, while Congress works on the 2012 budget, which officially started Oct. 1. Most congressional veterans expect Congress will pass another stop-gap measure to give them more time to get a 2012 budget in place.
The Senate made progress on that front Tuesday, when it passed a smaller $182 billion budget package that funds housing, transportation, NASA, FBI as well as the departments of Agriculture and Commerce. That bill is among a dozen that need to be passed by both chambers.
Lawmakers need to make some smaller cuts from this year's budget while bigger, longer-term cuts are being debated by a so-called super committee. That committee has until Nov. 23 to make at least $1.2 trillion in cuts to annual deficits.