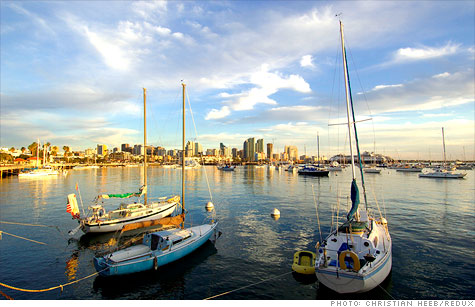 Looking for a December getaway? Hotel rooms in San Diego are available at a discount compared to last year.
(MONEY Magazine) -- Hotel room prices, on average, are up 5% over last year, but these destinations are shaping up to look like real deals in late December.
San Diego: Down 38%
December highs regularly reach 66° Fahrenheit -- ideal for visiting Legoland, SeaWorld, or the San Diego Zoo. Hotels lost business last year by raising rates too early, says Getaroom.com's Bob Diener, and don't want to repeat that mistake. Prices average $131 a night, down from $211, and a recent booking at the four-star Sheraton San Diego Hotel & Marina cost only $127 -- for Christmas Eve.
Maui: Down 36%
Free-night deals at top resorts have travelers trading up, leaving empty rooms -- and bargains -- elsewhere, says Joseph Toy, CEO of consulting firm Hospitality Advisors. Rates are averaging $284 a night, down from $447 last year, reports Expedia.com. Holiday airfare is pricey, but late-December roundtrips from L.A., at about $800, are $100 less than last year, according to Fly.com.
Vail Valley, Colo.: Down 8.5%
While winter hotel rates have jumped 38% in Aspen, average room prices at resorts in Vail and Beaver Creek have fallen to $215 from $235, thanks in part to last winter's opening in Vail of three new luxury properties. One-day lift tickets top $100, but last year Vail Resorts began cutting prices for people buying in advance, says Evan Reece, CEO of Liftopia.com.
Note: Projected year-over-year price drop for average hotel rate, based on bookings as of September 2011 for the last two weeks of December. Source: Expedia.com.