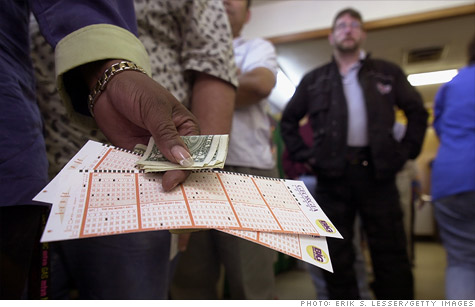 Thanks to Friday's lucky date, 11/11/11, lottery ticket sales are booming.
NEW YORK (CNNMoney) -- As the economy continues to struggle, more people are betting on a dollar and a dream -- and thanks to Friday's lucky date, Nov. 11, 2011, or 11/11/11, ticket sales are booming.
All those ones in a row are very attractive for lottery players, since that set of numbers won't roll around again for another 100 years. But good luck trying to buy a ticket full of ones at this late date.
To ensure every winner gets paid, the lotteries cap sales of certain number combinations. In New York, for example, the Win4, which caps sales on any one number combination at $5 million, already sold out of 1-1-1-1 tickets for the Nov. 11 drawing a week ago, according to Carolyn Hapeman, spokeswoman for the New York Lottery.
Dale Garrison of Kansas City, Mo. played on 9-9-09 and didn't win. He doesn't think he'll have much more luck on 11-11-11 either, but he still bought a ticket anyway.
"There are a large number of people who sit on the sidelines and wait to jump in when they see a big jackpot or for dates like this," said David Just, associate professor of economics at Cornell. "You might see a 5% to 10% bump [in sales]," he said -- similar to the one on July 7, 2007.
But sales have been in record territory long before Friday, and lotteries can thank the economy for that.
Persistently high unemployment, declining home values and diminished retirement accounts have all helped the lottery prosper.
Lottery sales rose in 28 out of 44 states during the last fiscal year, according to financial records compiled by LaFleurs, a research firm that specializes in lotteries. Nineteen states notched record highs.
The New York Lottery, for example, recorded record revenue of $7.87 billion in fiscal 2011, which ended in March. Minnesota's State lottery set its fourth consecutive record in a row in fiscal 2011, raking in $504 million in sales.
Bad times cause desperation and the desperate turn to lotteries in an effort to escape financial hardship, according to a 2004 study by Cornell University.
"Lottery sales are up and that has a lot to do with the high level of unemployment and high level of under-employment," Just said, who is also a co-author of the study called "Hitting the Jackpot or Hitting the Skids."
As more people fall below the poverty line, many adopt a negative long-term view of their finances and start playing the lottery, Just said.
"They think the only way to change their status is to buy a lottery ticket and cross their fingers."
A separate study by Carnegie-Mellon University found that low-income people put a larger percentage of their incomes toward lottery tickets than more affluent Americans.
"Some poor people see playing the lottery as their best opportunity for improving their financial situations," said Emily Haisley, lead author of the study.
And don't expect that to change any time soon, Just said. It will take a lot more than a positive employment report or rebound in home prices to make Americans feel hopeful again.
"It has to be that people begin to believe that they will be ok," Just said. "If that sort of change happens, we will see lottery sales returning to what they were before."