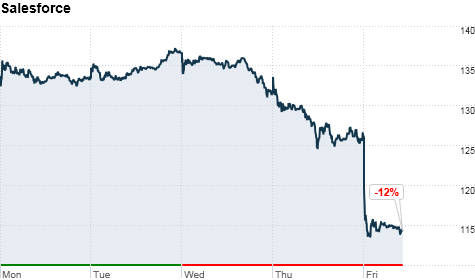 Click on the chart to track Salesforce's stock price.
NEW YORK (CNNMoney) -- It's a cloudy day for Salesforce's (CRM) investors as shares of the customer relations software company are down 9.5%.
Salesforce reported earnings a bit above consensus estimates and guided next quarter higher, but investors are worried about slowing organic growth that does not justify the current sky-high valuation.
On the other side of the performance spectrum is Aruba Networks (ARUN), which announced 44% revenue growth and raised earnings guidance for next year. Its stock advanced 2% on the news.
In other tech earnings news, Marvell Technology (MRVL) reported a 24% decline in earnings, but still managed to beat the Street's estimates by a smidge. Its shares advanced 7%.
These are some of the popular themes on StockTwits this Friday:
oktobernv $CRM - Salesforce trades for 732 times reported earnings, compared with 13 for the S&P 500 - Yea, that makes sense.
firstadopter $CRM JPM "Most troubling is that new biz growth declined to 12% per our calculations from 42% in JulQ after 5 straight Qs of >55% growth"
4C_Blue $CRM They think stock will go up 20pc every time they use the word "cloud" just like using the word ".com" ten years ago. Means the same thing
bearcreekzeke $ARUN Great business, taking share, expanding margins, analyst upgrades, +20% short interest, new Cisco VP. Here we go.
TrendRida I listened to $ARUN's CC. They are hitting on all cylinders & aren't being affected by the PIIGS...
Nils1975 $MRVL summary: HDD better than feared, flood causes adoption of newer tech and SSD ->both +ve for $MRVL (better margins + higher share)